Our 45 series CNC routers include an excellent choice for craftsmen to find cheap CNC machines to complete the cut without exceeding their budget.
Spindle:4.5kw air cooling
Controller:DSP A11
Table:vacuum with T slot
Trying to figure out which commercial CNC router is right for you? Contact our team to learn more about how our tools can craft anything you have in mind.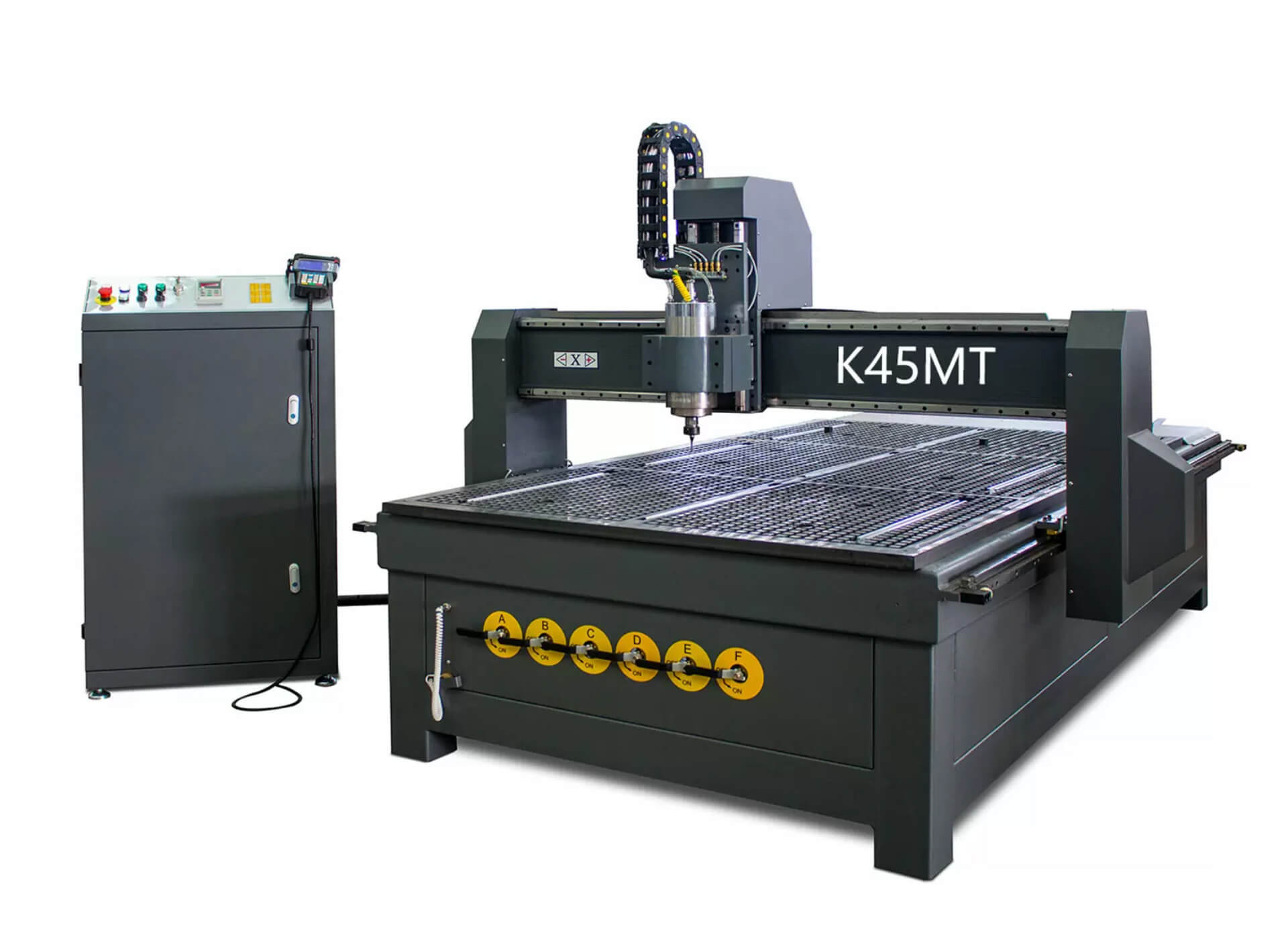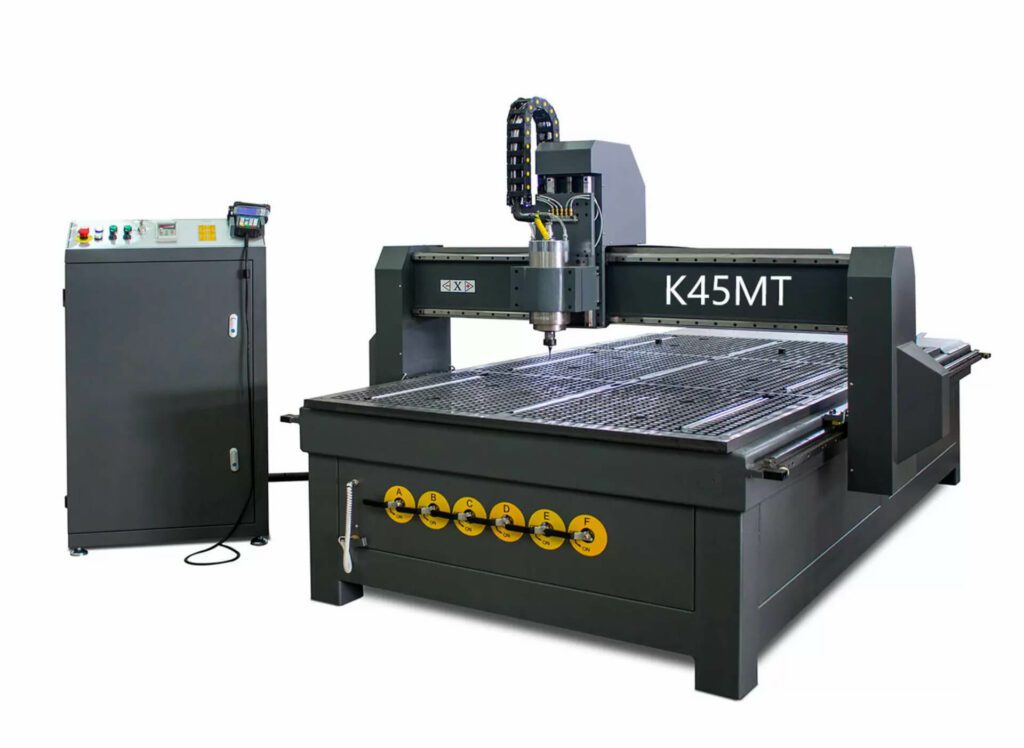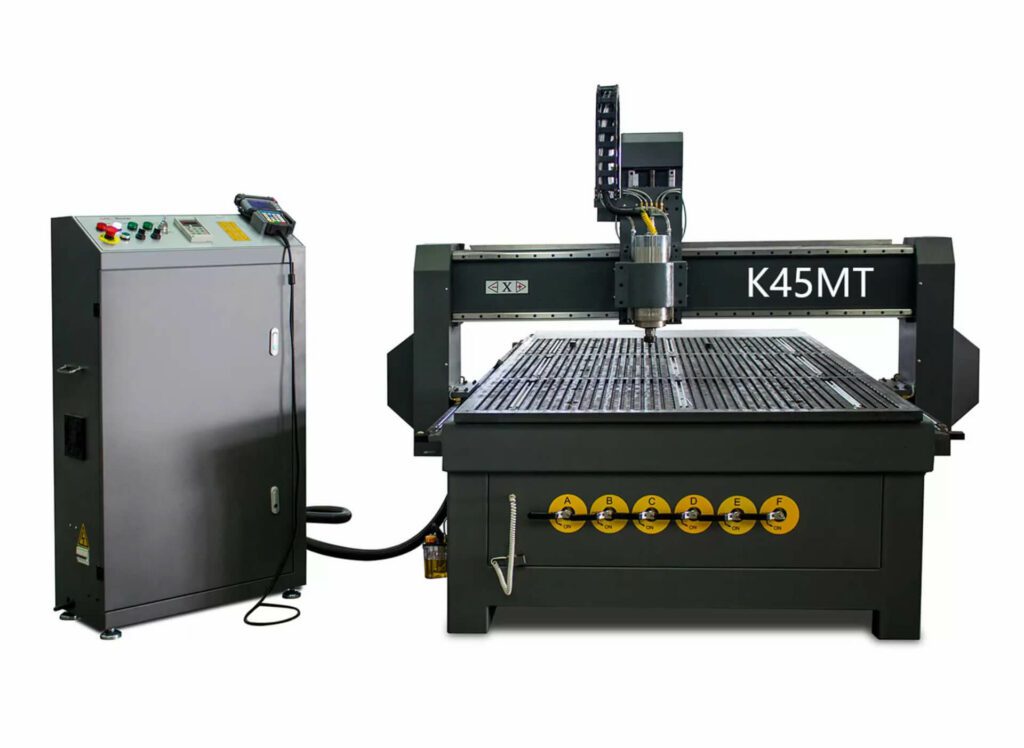 Product Description
K45MT is one of our most popular machines, its working size is 1300x2500mm, this size can meet most of the board processing needs. we also offer it in 4 by 4 ,5 by 10 5 by 12 and other sizes upon request.
K45MT has the most basic and mainstream configuration, simple operation, can process wood, plastic, acrylic, soft metal and other materials
The guide screw uses a famous Taiwanese brand,Precision is less than 0.02mm, high stability, long service life.
The transmission is by rack and pinion made by famous Germany manufacturer. The precision is less of high efficiency transmission, Bearing high torque, low noise.
this machine have a heavy frame that's very rigid ruggedly constructed machine structure. Material is Stress relieved and annealed for deformation free, thus always keep machine accurate.

Parameter
MODEL
K45MT

rack and pinion, gear drive

1. yaskawa servo motor2. Other bigger size 3. Syntec controller4. Becker pump5. Rotary xis
Accessories and Advantage
4.5KW air cooling spindle
Air-cooled spindle has many unique advantages. Cooling by built-in fan,long service life, No external pump required, Easy to use, easy to maintain, Less affected by the environment, low failure rate, If you are interested in water cooling spindles , We have prepared 4.5kw water cooling spindles for you to choose.
Hand controlled system, DSP A11
The machine is controlled by the DSP A11handheld controller, which ensures that the machine can be operated without a computer
The task is loaded into the controller's memory when connected to a PC via a USB drive or directly
Vacuum table with 7.5KW pump
High-density PVC sheet, good sealing.
With the use of vacuum pump, the adsorption force is more powerful.
We use 7.5KW Chinese pump, Positive pressure is used to provide adsorption, the flow rate is large (480m3/h) but the adsorption effect is general, it is used for the adsorption of small and light plates.

Application
Advertising industry:Signage, Logo ,Badges, Display board, Meeting sign board, Billboard,Advertising filed, Sign making,Acrylic engraving and cutting, Crystal word making, Blaster molding and other advertising materials derivatives making.
Wood furniture industry:Doors, Cabinets, Tables, Chairs, Wave plate, Fine pattern, Guitar….
Artwork and Decoration:wood crafts, gift box, jewelry box.
Other:Relief sculpture and 3D engraving and Cylindrical object.