1.Two spindles use two Z axes, which allows the two spindles to be used separately
2.Two spindles can be processed at the same time, double the efficiency
3.After the system is upgraded, can realize asynchronous machining, and two different tools can be installed, which is equivalent to a simple automatic tool change.
4.One machine has multiple functions, saves costs, and satisfies different processing needs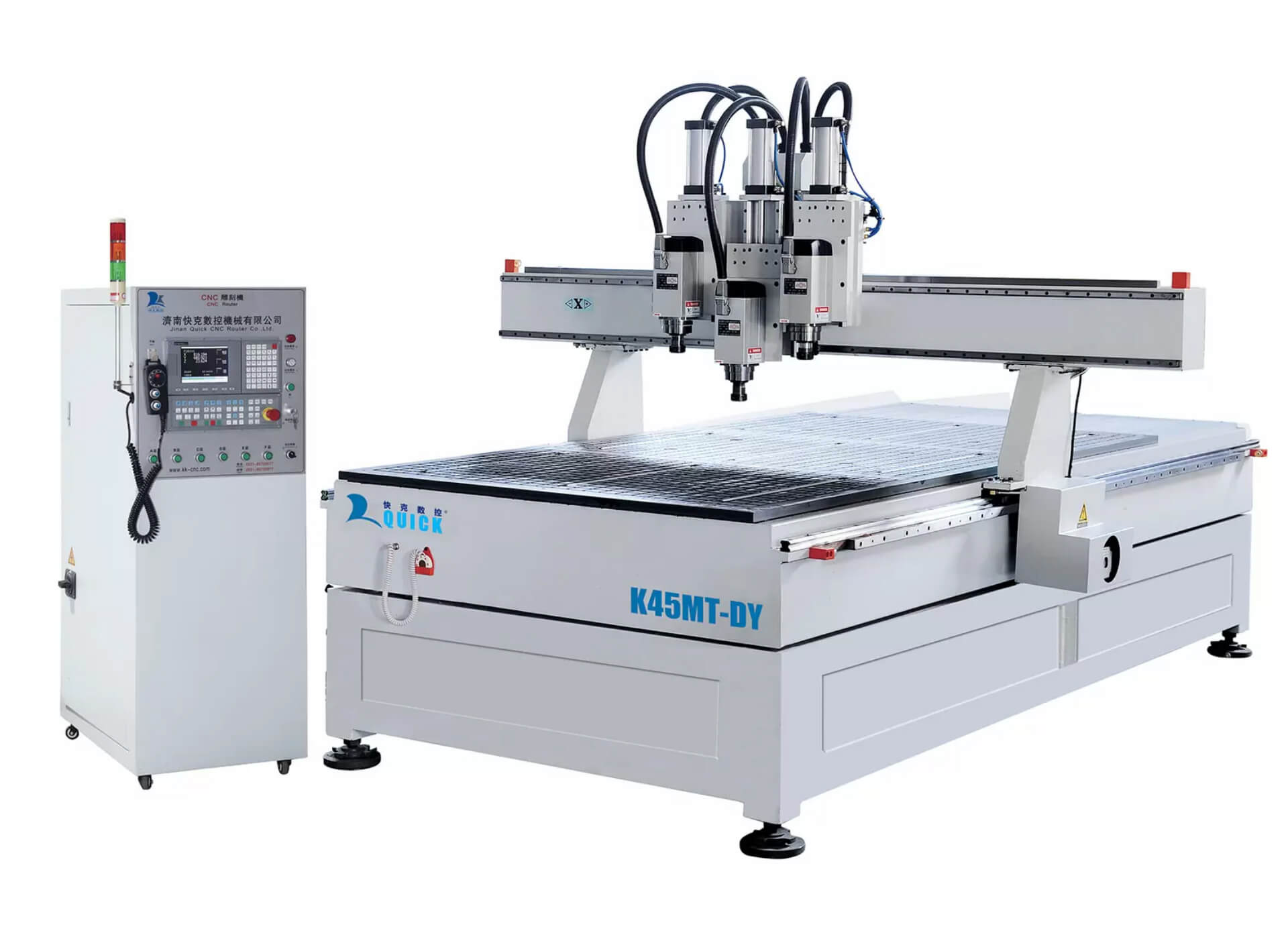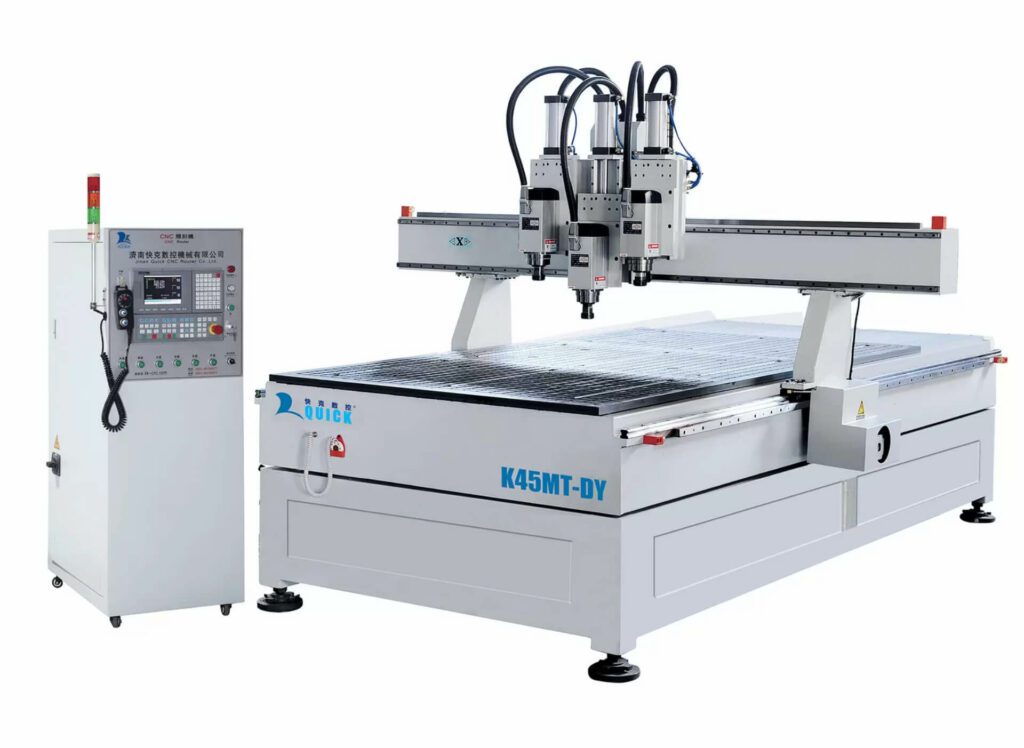 Product Description
Multi-Spindle Woodworking Machine Engraving CNC Router K45MT-DY – 3 spindles 1325,This machine with 2 or 3 sets 6kw air cooling spindles, which could work one by one alternatively, so the operator could use 3 separate cutting tools fixed on the machine.
It is most suitable for the jobs which use 3 different cutting bits, spindles could be launched by air cylinders which are instructed by controller, also the 3 spindles are mounted in the same Z-axis so they will get the same Z height, the standard motor is a high-quality brushless stepper motor, the customer could also update to the servo motors if needed, the spindle can also update to Italian HSD one, customized sizes are also acceptable.

Parameter
MODEL
K45MT-DY

rack and pinion, gear drive

y Linear ¢20 square/Taiwan

6KW air cooling 3 or 2 pcs

Stepper motor ,leadshine driver

vacuum table with 7.5kw pump

6KW HSD spindle , dust collector , 4th axis , vacuum table1500X3000X200mm 2000X3000X200mm 2000X4000X200mm
Accessories and Advantage
Hand controlled system, DSP A11
The machine is controlled by the DSP A1X handheld controller, which ensures that the machine can be operated without a computer
Hand controlled system, DSP A11
There is no need to attach your CNC router to your computer to operate it. Simply transfer your file to the handheld controller via USB storage device. The handheld RichAuto A11 controller is a powerful, lightweight and easy to use controller .
Stepper motors
Good mechanical performance and powerful driver, based on NEMA34 motor and driver, it can achieve a moving speed of 35,000 mm per minute, with an accuracy of 0.01 mm, and a belt reducer with a torque transmission coefficient of 1: 3.
Linear rails and slice bearings
We use top quality square linear rails with slice bearings on K30MT,which is used to support and guide moving parts, reciprocate linearly in a given direction. Precision is less than 0.02mm, high stability, long service life.

Application
Advertising industry:Signage, Logo ,Badges, Display board, Meeting sign board, Billboard,Advertising filed, Sign making,Acrylic engraving and cutting, Crystal word making, Blaster molding and other advertising materials derivatives making.
Wood furniture industry:Doors, Cabinets, Tables, Chairs, Wave plate, Fine pattern, Guitar….
Artwork and Decoration:wood crafts, gift box, jewelry box.
Other:Relief sculpture and 3D engraving and Cylindrical object.