Our UE-481 ATC has a tooling capacity of up-to 12 tools as standard , held in a linear rack under the gantry. All of our ATC routers come with fast, efficient SERVO drive system, delivering unrivalled accuracy and performance.With one of our Apollo ATC CNC Routers you will easily be able to produce wood working projects such as kitchen cabinets, furniture, and even produce custom staircases.

Main specs:
9KW HQD air cooling spindle ,24000rpm
Servo motor
Fulling inverter
Taiwan syntec controller
vacuum table with powerful pump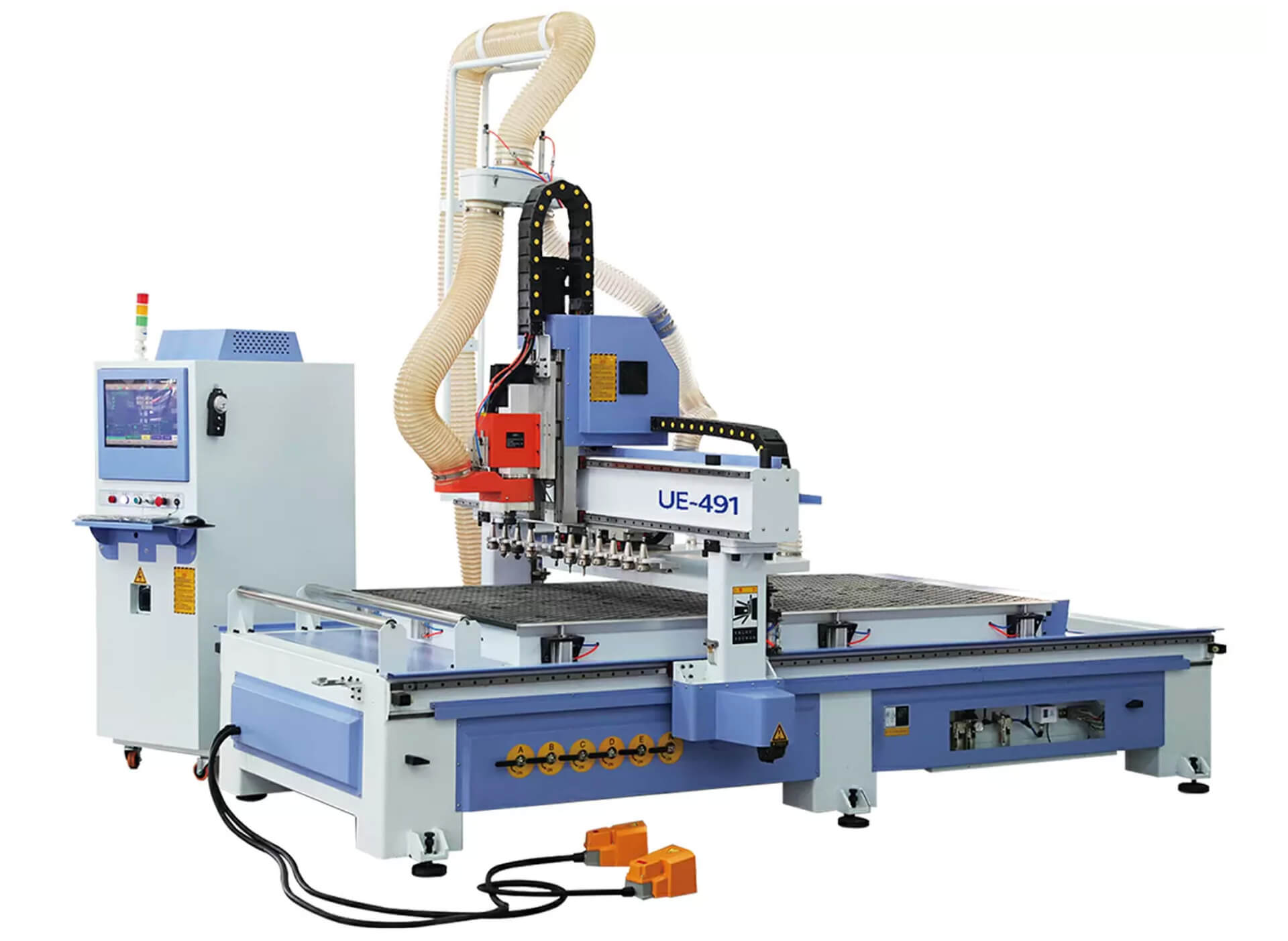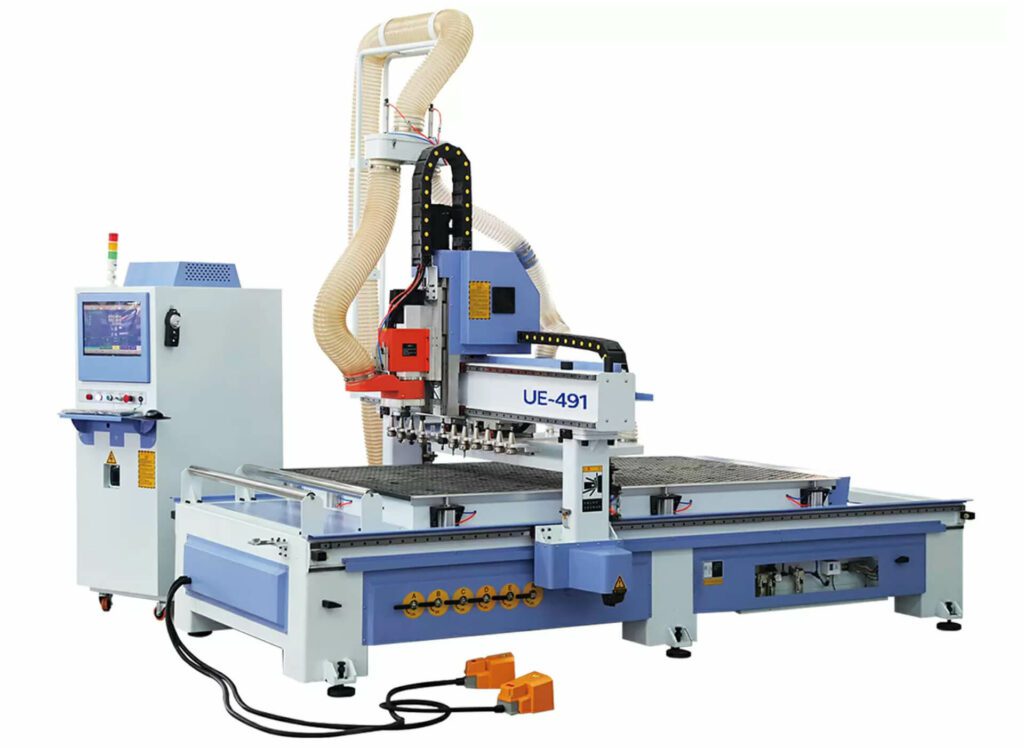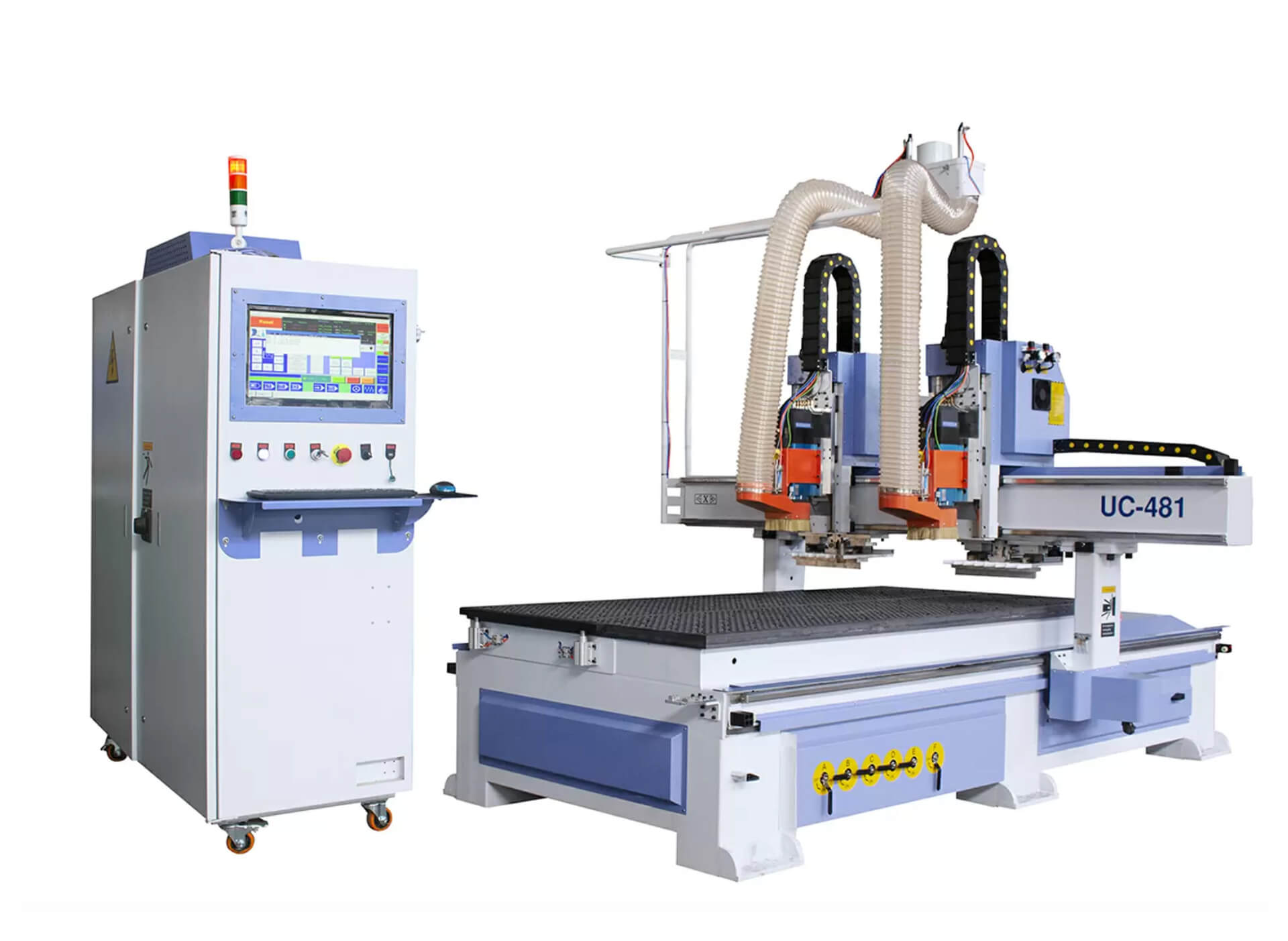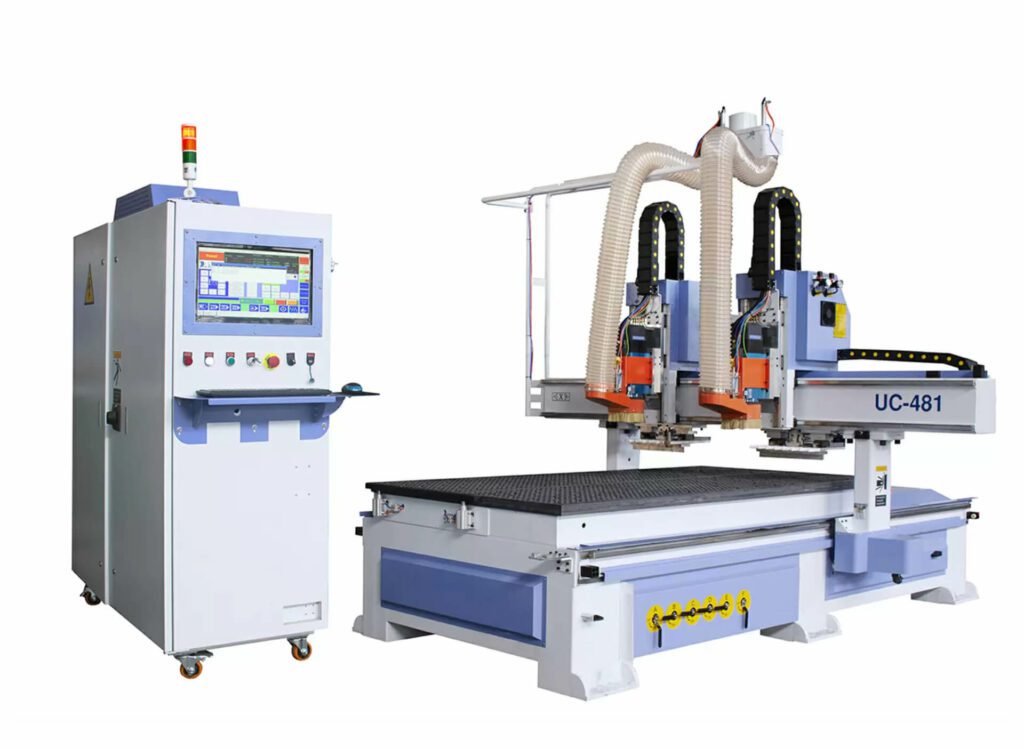 Product Description
UE491 model is a high efficiency heavy duty designed ATC CNC Router.
A distinguishing feature of this machine is the 12 pcs linear tool changers under the beam of the gantry , which provide an impressive tool change speed for an automatic tool change work. It is popular for wood cabinet making, wood door making or even solid wood works , it is a space-saving professional design at an affordable price with great features.The working size can be designed to 1220x2800mm/1500x3000mm/2000x3000mm/2000x4000mm .This model is acceptable of customized size.The 4th axis and the auto tool changers is also available .

Parameter
MODEL
UE491

9KW air cooling spindle (ISO30)

12 pcs linear tool changers
Accessories and Advantage
PC controlled system, Syntec
The machine is controlled by the Taiwan Syntec control system, which ensures that the machine can be operated by a computer.
Large storage space, perfect U disk compatibility, fast reading speed, safe and reliable U disk-processing. Support intelligent file checking function.
9.0kw China Fan cooling ATC spindle
The router spindle is very high precision and liquid cooled . which keeps the spindle at a constant temperature and maintains longevity. It can works in a high speed ,low noise and high precision. The power is 3.0kw ,And their is dust hood fits onto the router spindle .
Linear rails and slice bearings
We use top quality Chinese brand square linear rails with slice bearings on UE491,which is used to support and guide moving parts, reciprocate linearly in a given direction. Precision is less than 0.02mm, high stability, long service life.
Inovance brand is the best performance servo motor in Chinese market, Motor's max. torque can reach 350% which may shorten speed up and slow down time. The servo motor can response instantly. High resolution makes high.

Application
Advertising industry:Signage, Logo ,Badges, Display board, Meeting sign board, Billboard,Advertising filed, Sign making,Acrylic engraving and cutting, Crystal word making, Blaster molding and other advertising materials derivatives making.
Wood furniture industry:Doors, Cabinets, Tables, Chairs, Wave plate, Fine pattern, Guitar….
Artwork and Decoration:wood crafts, gift box, jewelry box.
Other:Relief sculpture and 3D engraving and Cylindrical object.