The loading unit with suction cups allows the panel to be automatically loaded and positioned on the work table.Various solutions are available for cleaning the panel and the area around the machine, thus saving time for the operator.
The Gantry structure with dual motors is designed to increase precision and reliability standards for the execution of all nesting operations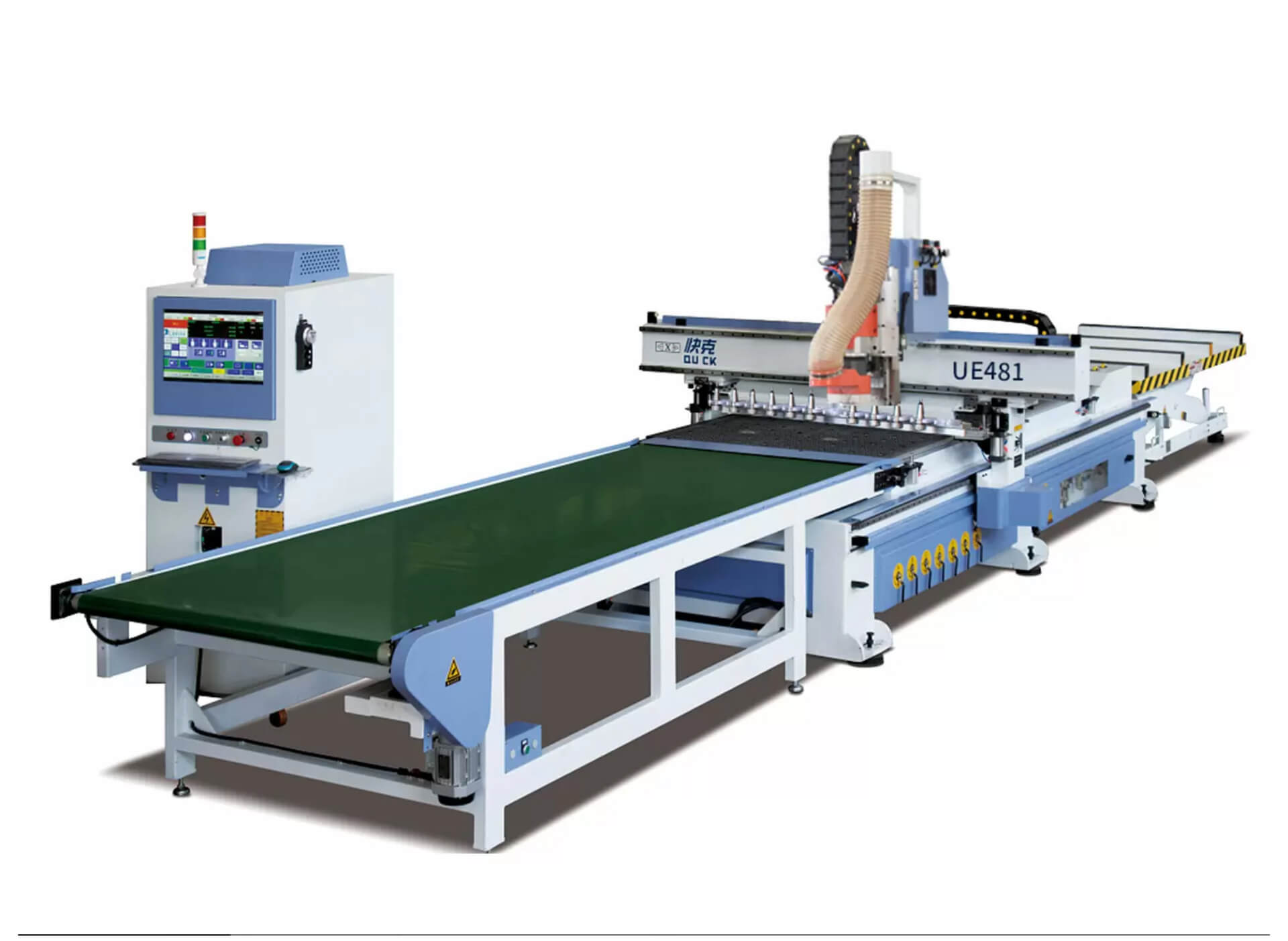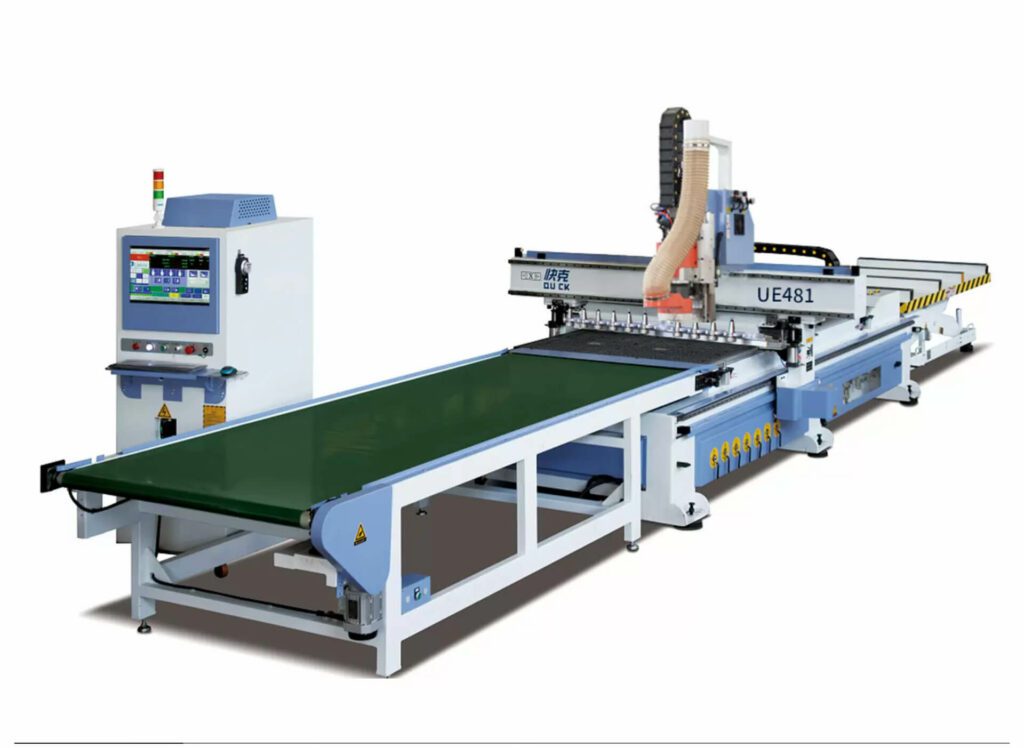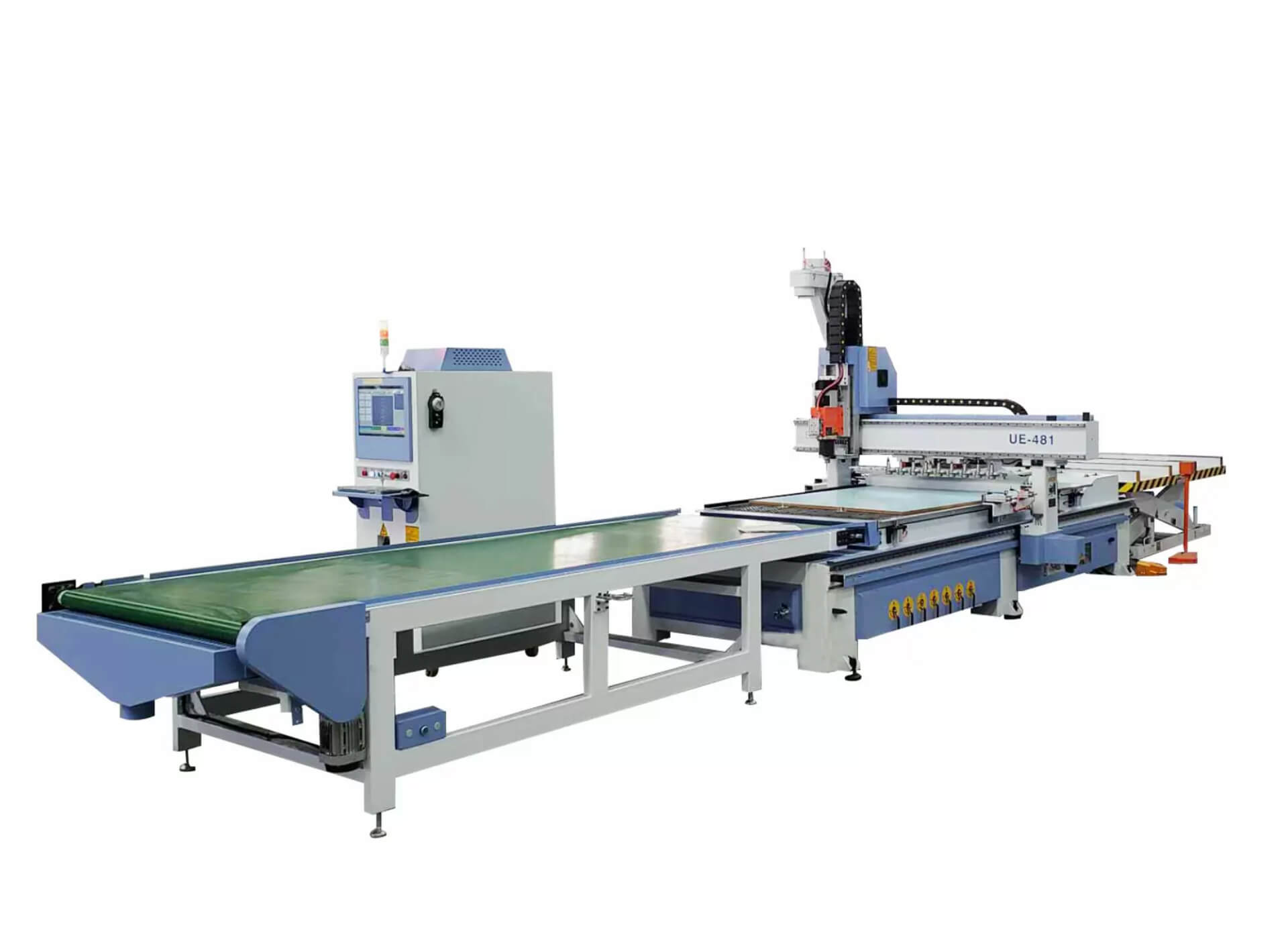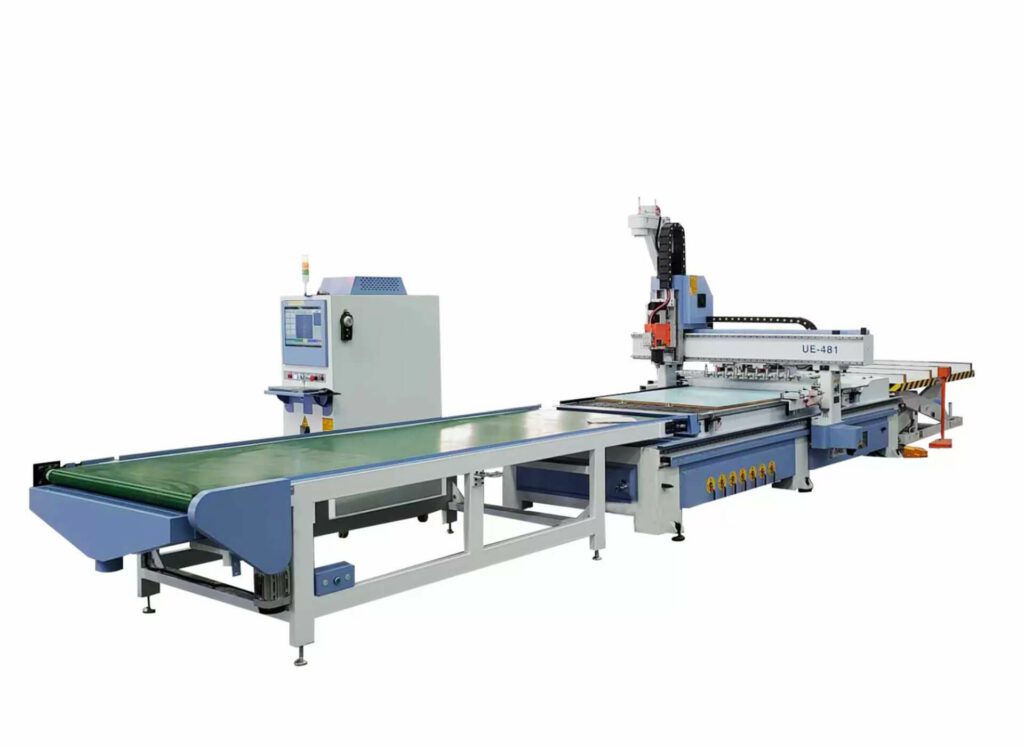 Product Description
HIGH RELIABILITY AND PRECISION OVER TIME
Automatic loading/unloading solutions enable significant increases in productivity
Quick auto loading and unloading UE-481 atc cnc machine adopting the top domestic high-quality configuration, long service life.
Automatic loading and unloading saves labor time and cost, can meet various processing requirements of door panels/cabinets, has fast efficiency, and supports fast punching.
The working size/machine color can custom,and we provide many different choice for you.
This machine use SYNTEC control system, stable and high precision.
The machine is equipped with automatic tool sensor instrument, which saves time and zero error.
The system has an automatic scheduling function; importing all files at one time and processing them in sequence will increase the efficiency and reduce the workload of workers.
It can work continuously for 24 hours, processing 200 square meters of cabinet body , and can process 130m2 of cabinet door panels after 10 hours of work. Processed 300 carvings of interior doors and facades.
Parameter
MODEL
UE-491

1220X2440x200mm/1220*2800*200mm

12 pcs Linear type auto tool changers

Automatic feeding platformautomatic unloading platform

Taiwan Linear 25mm square

Color/Germany Becker Pump etcOther size available
Accessories and Advantage
9KW Air Cooling Spindle
The spindle is passed test of IP65 water proof and dust proof.the features are high speed and low noise. Heavy duty cutting is available for high precision and bearing abrasion.
Inside and outside air cooling system enable long time processing At low temperature and prolong spindle's life
Taiwan SYNTEC controller
Support drive and spindle error alarm function
Support intelligent file checking function.
Parameter backup and restore function to prevent the loss of important parameters.
High anti-jamming intensity passes many CE tests.
Linear type 12 pcs auto tool changers
Tool change magazine with up to 12 spaces, rendering all tools and aggregates available at all times with no need for operator intervention when changing tooling between machining operations.
Application
Advertising industry:Signage, Logo ,Badges, Display board, Meeting sign board, Billboard,Advertising filed, Sign making,Acrylic engraving and cutting, Crystal word making, Blaster molding and other advertising materials derivatives making.
Wood furniture industry:Doors, Cabinets, Tables, Chairs, Wave plate, Fine pattern, Guitar….
Artwork and Decoration:wood crafts, gift box, jewelry box.
Other:Relief sculpture and 3D engraving and Cylindrical object.