PA3713 is a heavy-duty machining center. The product is suitable for the processing of diversified and complex products. It has comprehensive functions: router milling, row drilling, cutting, side milling, side drilling, side cutting, etc.. Especially suitable for the processing of solid wood combination wooden doors and solid wood paint-free doors, which can be formed at one time .The working size can be designed to 1300x3700mm /1300x5000mm .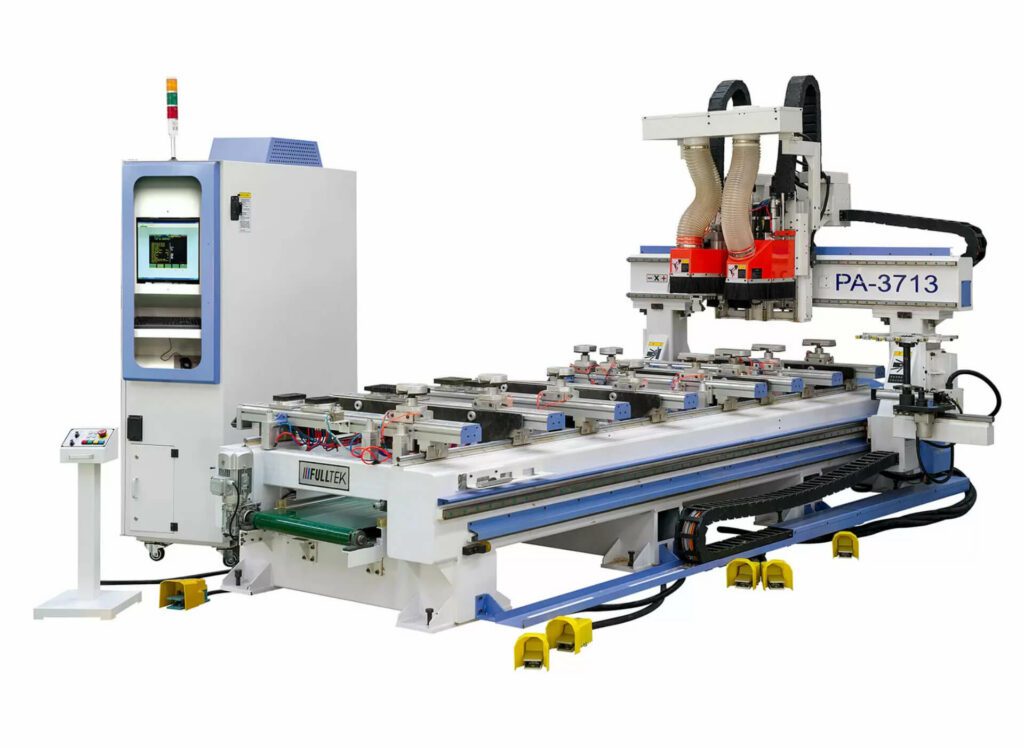 Product Description
The parts of the solid wood combination door can be processed at one time, and the seven-piece group time is about 25 minutes.
The production processes of milling, sawing, and drilling can simultaneously complete the processing of inner line forming, mortise holes, and double-sided door cores.
Break through the traditional processing mode, replace six traditional processing equipment at the same time, and greatly shorten the production process and processing time.
Specializing in the production of combined solid wood doors, solid wood arched doors and windows, solid wood decoration frames and other processing.
Parameter
MODEL
PA-3713 (5000mm in length optional)

1200*1100*800mmOR 1200*1100*800mm*2

rack and pinion,gear drive/Taiwan

Carousel 8pcs tool changers

SYNTEC PC based system/Taiwan
Accessories and Advantage
Taiwan Syntec control system
The machine is controlled by the Taiwan controller, which ensures that the machine can be operated without a computer.
The task is loaded into the controller's memory when connected to a PC via a USB drive or directly.
Electrospindles, boring heads are designed and manufactured by HSD, the global leader
in the mechatronics sector.
Yaskawa brand is the best performance servo motor in Chinese market, Motor's max. torque can reach 350% which may shorten speed up and slow down time. The servo motor can response instantly. High resolution makes high.In Y axis,we equipped with 1.1kw servo to increase the output torque.
High-strength alloy PTP can be adsorbed on the table, the customer can move according to the size of the door panel kit, with a ruler and can be used with pneumatic clamps and adsorption blocks.

Application
Advertising industry:Signage, Logo ,Badges, Display board, Meeting sign board, Billboard,Advertising filed, Sign making,Acrylic engraving and cutting, Crystal word making, Blaster molding and other advertising materials derivatives making.
Wood furniture industry:Doors, Cabinets, Tables, Chairs, Wave plate, Fine pattern, Guitar….
Artwork and Decoration:wood crafts, gift box, jewelry box.
Other:Relief sculpture and 3D engraving and Cylindrical object.