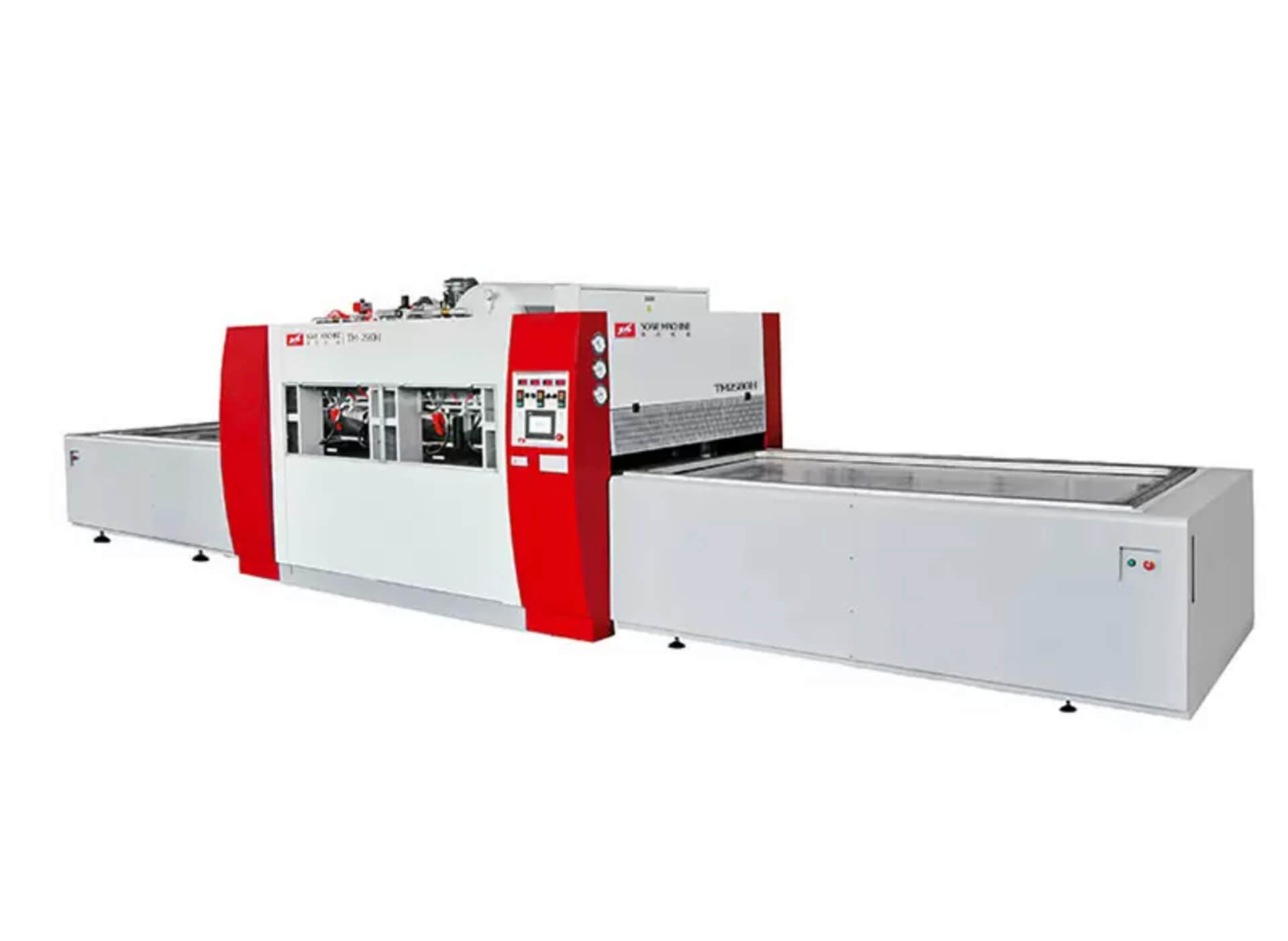 General Introduction:
Two working tables at main machine's right and left,the table inner size:2580x1320mm,adopts gravity induction lift pins,there's a pin in the middle of block,the door board is pressed on the pins which are automatically locked, the pins without pressed board drop down,high and low difference form the bottom supports.This automatic pin design reduce to 2-3 mins/table,the traditional common machine use 5-10 mins to look for and assemble the bottom supports.Automatic pin system improve the production efficiency(240-300m2/day) and save labor. It is used to work with various high-quality PVC, high gloss, hot transfer and veneer at one side. Mainly press the cabinet,wardrobe,and other furniture.
The products are of high quality, and will not peel off,the line and groove are clear.

Parameter
MODEL
TM2580C

2580mm×1320mm(inner size)

Maximum height of the work piece :

50mm(including the bottom support)

Actual power consumption :
Accessories and Advantage
The machine rack is made up of 6 whole steel plates excavated to avoid welding deformation.it's very stable and bear heavy pressure,through high temperature aging treatment,planing,ensure precision and useful life.
Running of working table takes chains matching frequency transformer; starting in low speed, running high and low speed to stop, which prevent the work piece moving.
The operation system chooses the international branded "Delta" PLC control equipment and the large man-machine touch screen . The machine is easy to control, and the technology is highly advanced. The automatic degree is very high.
Germany technology vacuum pump, good working, and easy maintenance.
The main electrical equipments for control system adopt "Schneider" , "Weidmuller", Taiwanese "Delta", Chinese "CHINT".
With theory of plug-in mounting, Taiwan hydraulic system run promptly, and seldom break down(use 5 s to load hydraulic pressure)