CNC machining center UC-481 is one of our most popular ATC machines for years.
This is a heavy-duty machine with accessories from Taiwan, Germany, and Italy, so it is very suitable for furniture companies, advertising companies, etc. to do a lot of complex work, with good quality and high efficiency.
Its size is 1220x2440mm, we also have 1300×2500, 1500×3000, 2000×4000 to choose , if you have unique requirements we can customize.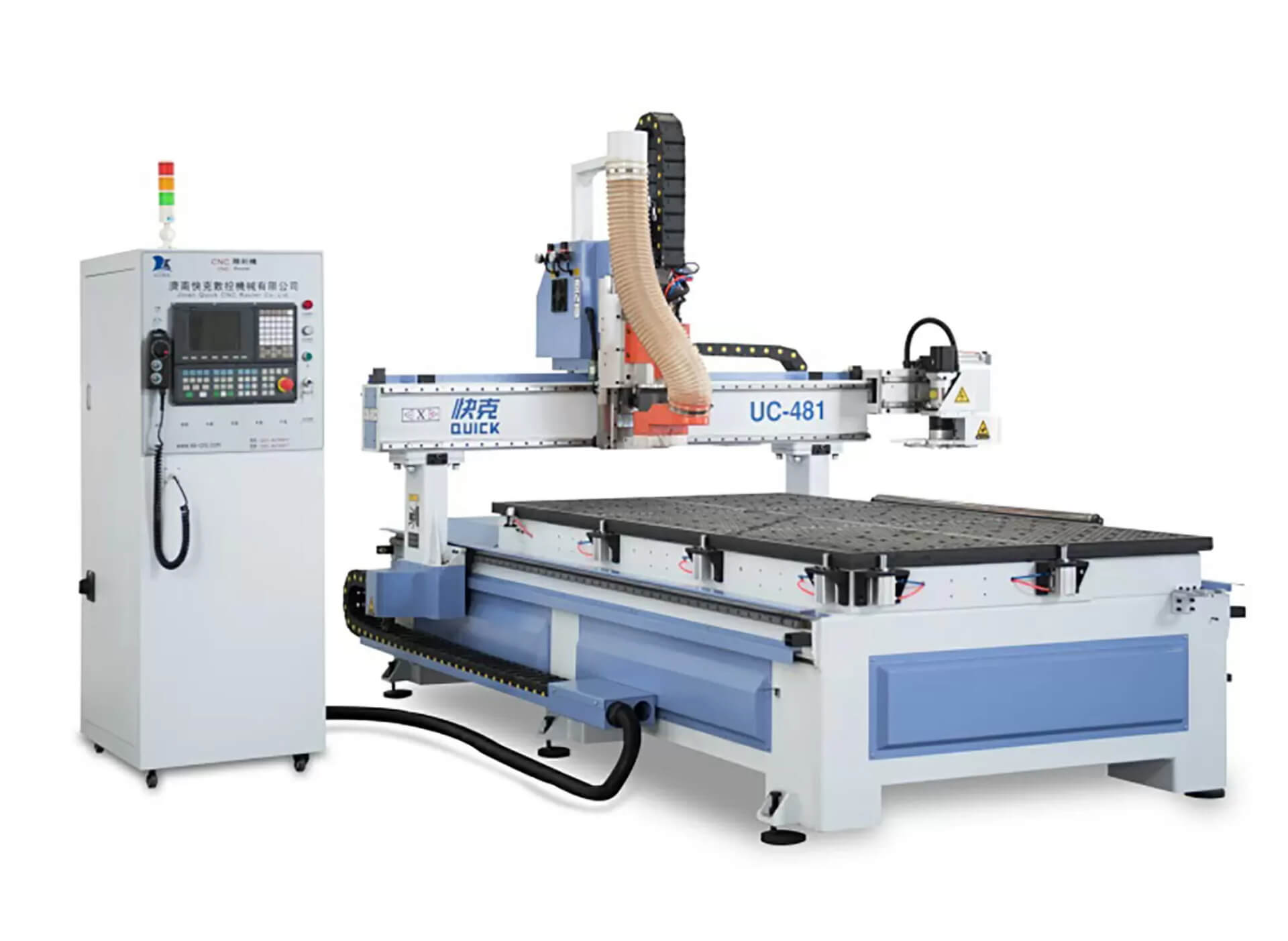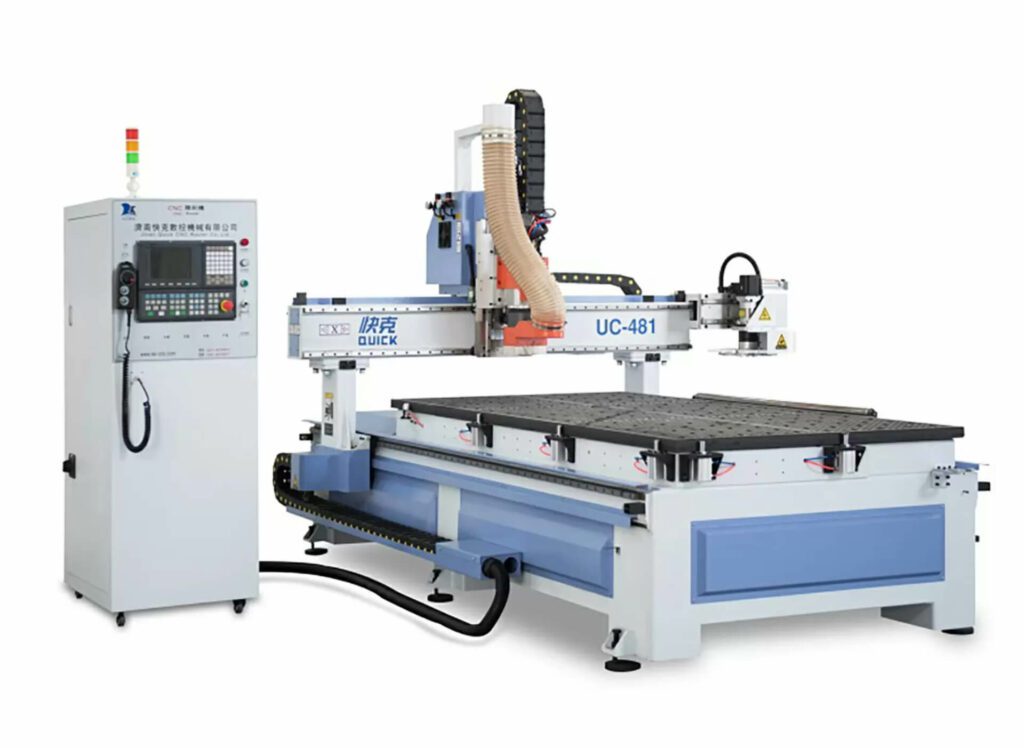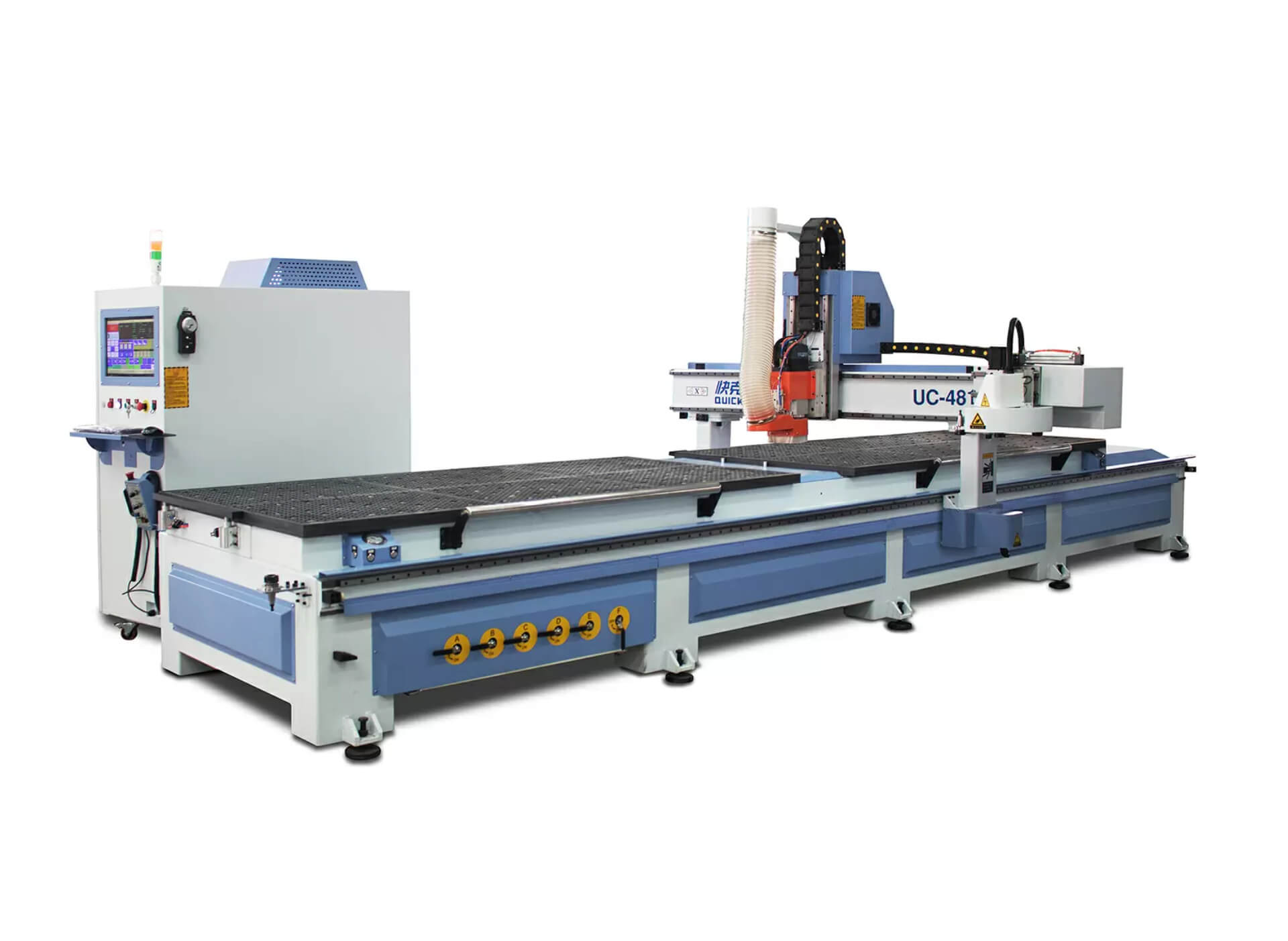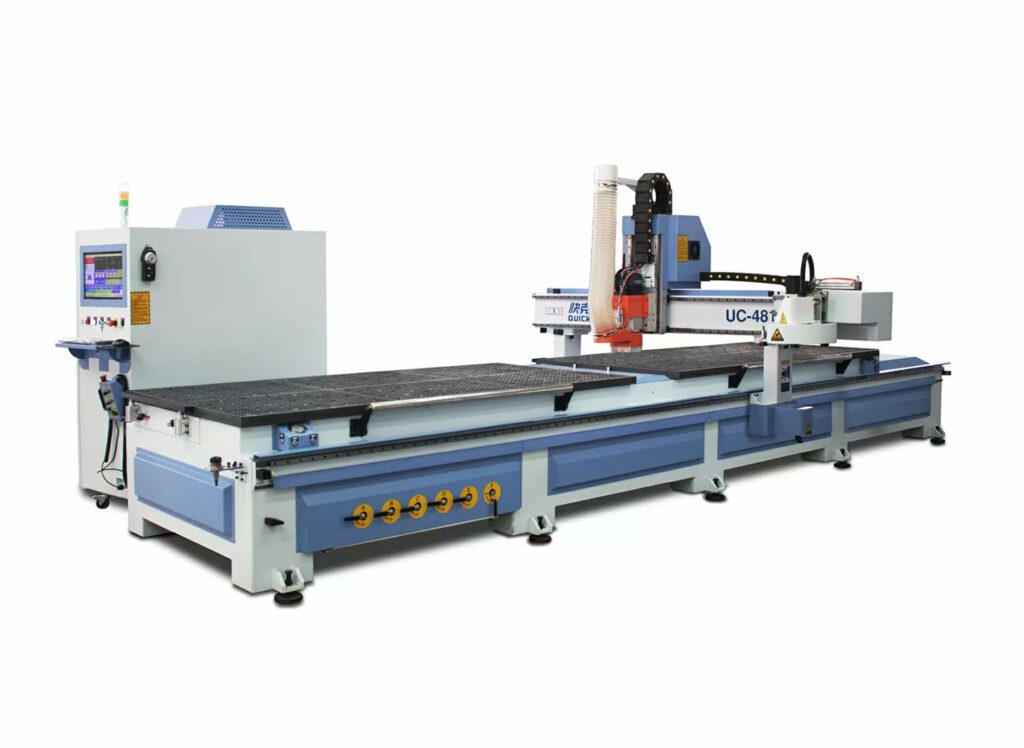 Product Description
What is a cnc machining center –
First of all ,The spindle is an italian-made spindle this is done by HSD and is considered to be one of the best spindles in the world .it's an automatic tool changing spindle ,that have 10 pcs rotary type to house the tools .The 10 tool rotary carousel allows your CNC Router to complete highly complex jobs with multiple tools with no user interaction.
1. this machine use heavy frame . Material is Stress relieved and annealed for deformation free, thus always keep machine accurate.The gantry on the UC is an all steel design, it means it's a lot more durable and rigid .
2. In order to protect the machine and facilitate subsequent maintenance, we have added a dust cover and an automatic lubrication system. we've redesigned the dust hood to make it tighter to the spindle and then we've also added the support for the dust collection hose and this is really improved dust collection greatly. And one automatic lubrication pump will lubricate all three axis of the machine.
3. Pop up pins are the most reliable method of ensuring quick and easy material positioning. With the full pneumatic retraction, there is no fear of any cutting tool collision with the pin. this machine is configured with five pins. x is two pcs and y axis is three .we've also moved the switch up to the control panel.

Parameter
MODEL
UC481

Rack and pinion, gear drive

9KW HSD air cooling -Italy

carousel type with tool shank

vacuum table with 7.5kw pump

x-axis 2 pcs y-axis 3 pcs
Accessories and Advantage
9KW HSD air cooling spindle
The spindle is an italian-made spindle this is done by HSD and is considered to be one of the best spindles in the world .it's an automatic tool changing spindle which has the characteristics of high speed, low noise, high temperature resistance and long life.
IP65 waterproof and dustproof, can carry out heavy cutting.
Yaskawa servo motors
we equipped Yaskawa servo motors on this machine, a great Japanese brand in the motor industry.The resolution can be reached 24 bits ,the best one in the current market. The servo system is a closed-loop control cycle ,which is smarter to coordinate with system indications. Compared with stepper motors,servo system will not lose steps when doing work and more stable in high speed running.
Syntec controller system
The system we use Taiwan Syntec, syntec is a leading company in the world. it requires very high precision and is very stable.,so it'll make it easier for you to determine if you're on the right part. we also give you an hand wheel that we can easily move the machine.
Vacuum table
This is a specially designed table, it is a double layer,This unique design has better sealing performance and better adsorption,The double-layer design also has the advantage of being strong and not deformed With the use of vacuum pump, the adsorption force is more powerful.
Application
Advertising industry:Signage, Logo ,Badges, Display board, Meeting sign board, Billboard,Advertising filed, Sign making,Acrylic engraving and cutting, Crystal word making, Blaster molding and other advertising materials derivatives making.
Wood furniture industry:Doors, Cabinets, Tables, Chairs, Wave plate, Fine pattern, Guitar….
Artwork and Decoration:wood crafts, gift box, jewelry box.
Other:Relief sculpture and 3D engraving and Cylindrical object.