Quick CNC router UC481 4 axis is an advanced cnc machining center with very heavy duty frames.The spindle could rotate 180 degrees.It is ideal choice to process 3D workpieces,door lock,hinges and other curved surfaces.And it has 8 pieces of tools for multiple carving.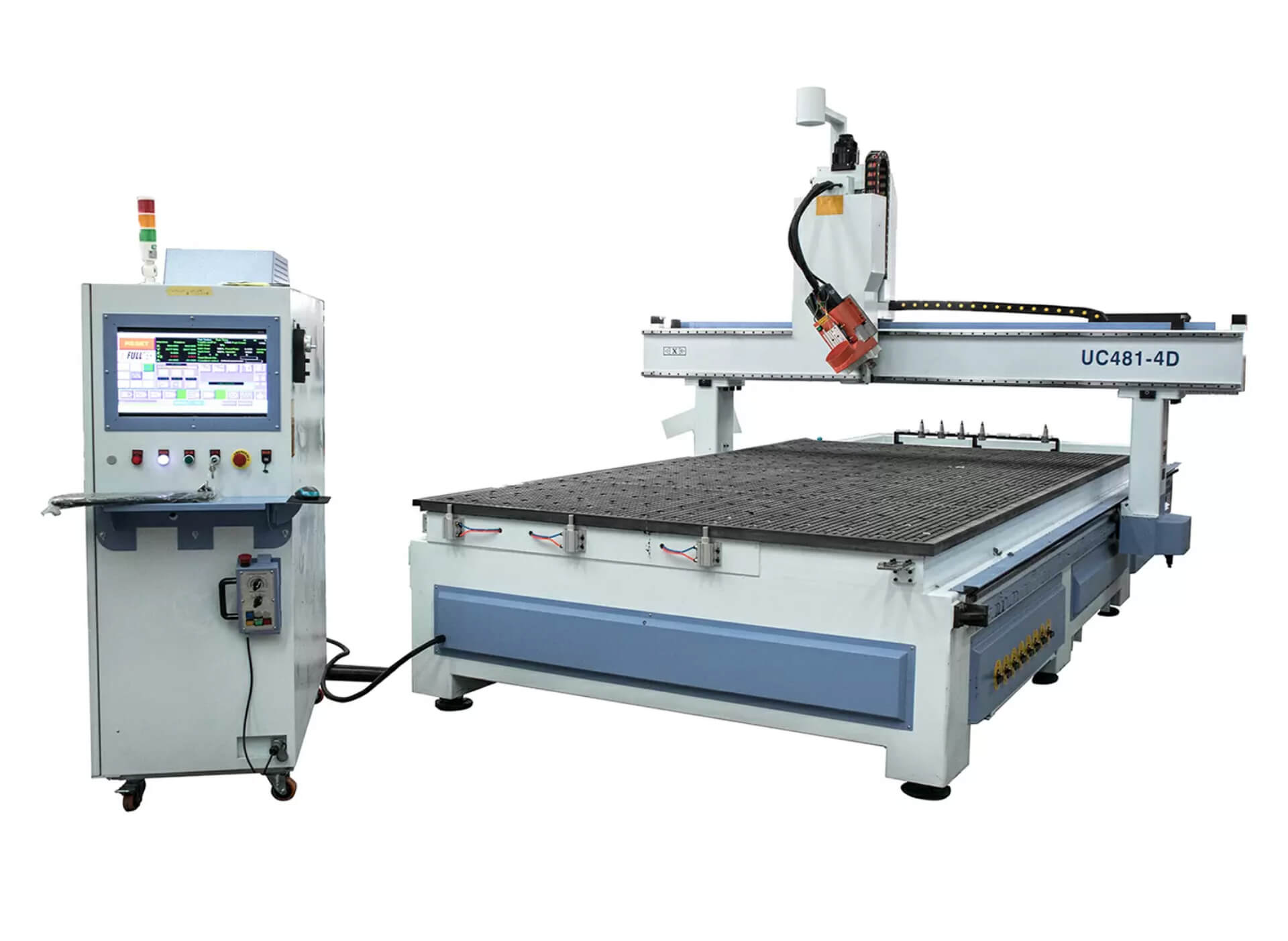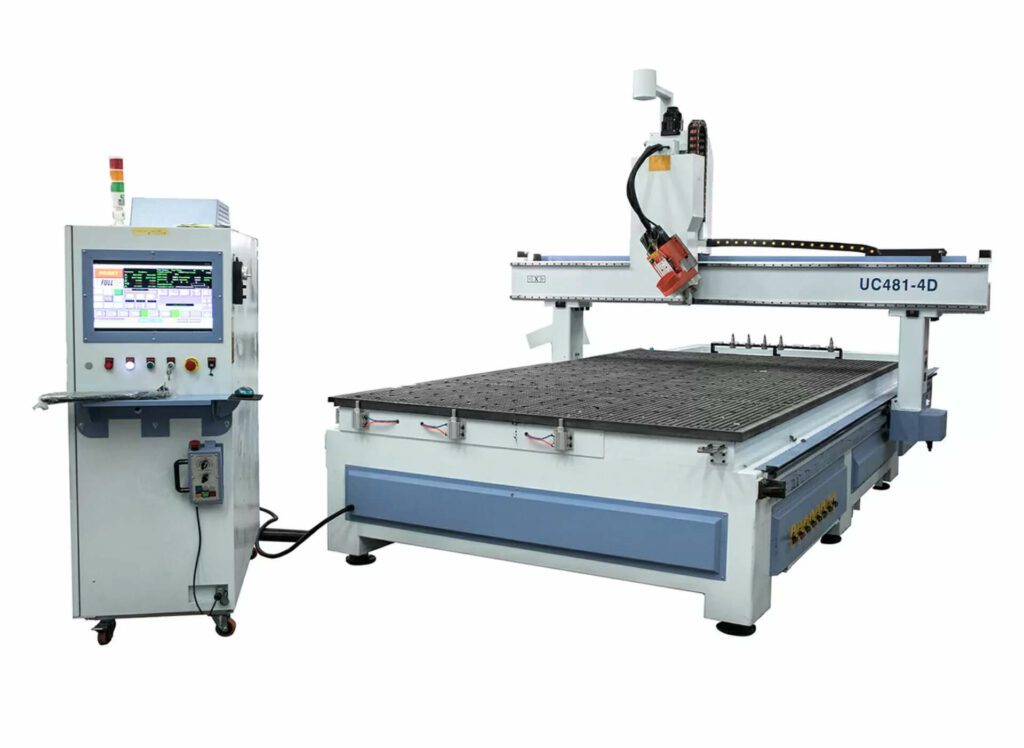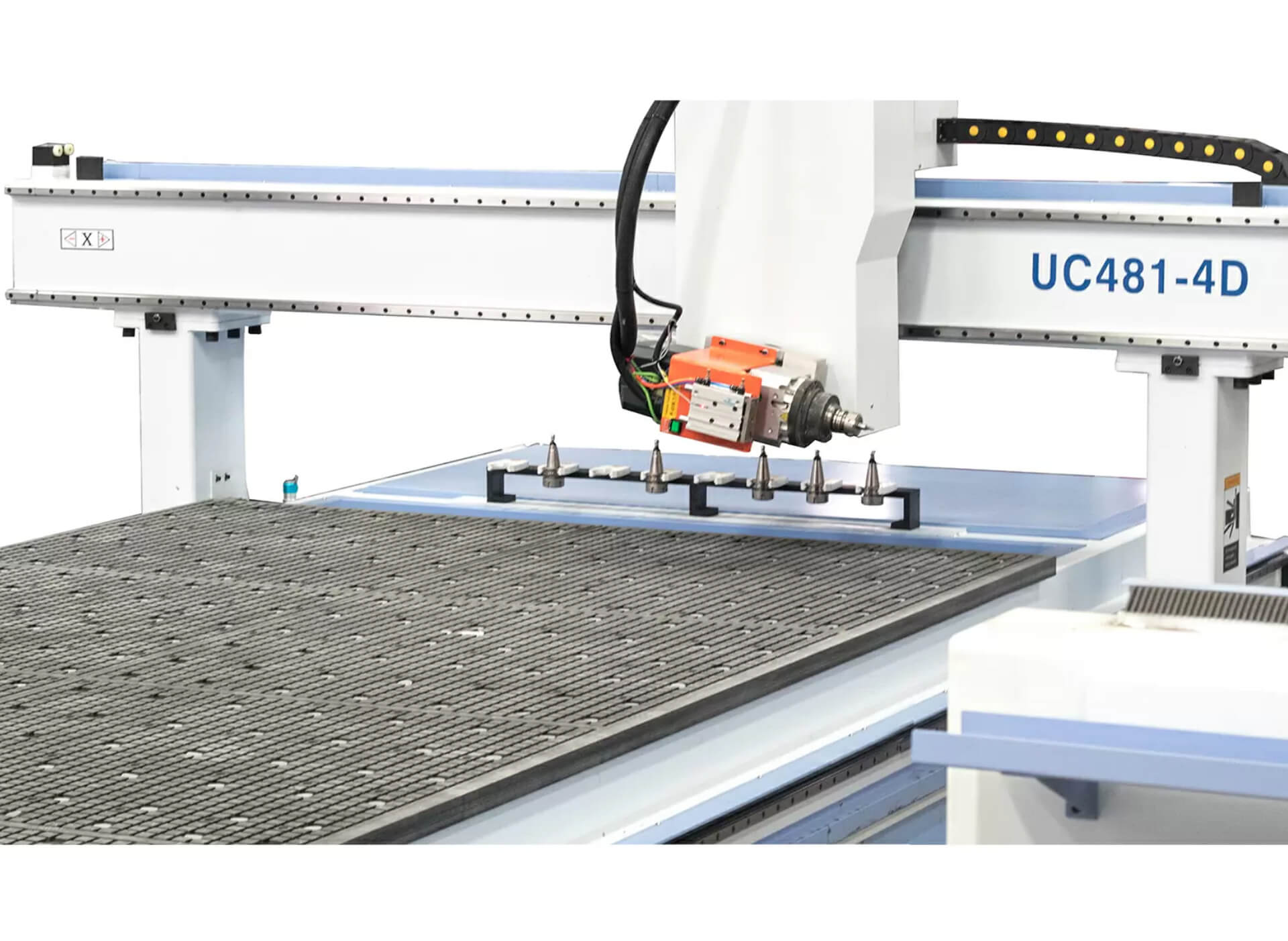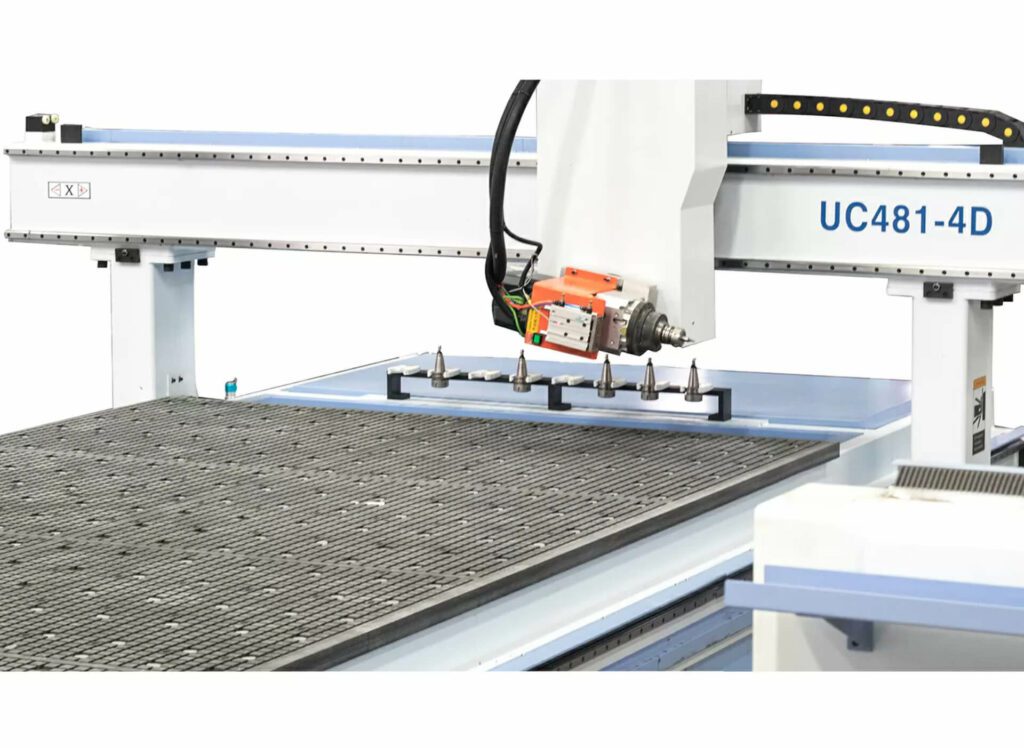 Product Description
UC481 4 axis could do not only plane processing,but also 3D patterns.These multiple functions could meet most kinds of woodworking,plastic,aluminum modeling etc.This machine UC481 4 axis is equipped with Italian 9.6kw ATC spindle,Japan Yaskawa servo motor, Taiwan Syntec control system,Germany Becker Vacuum pump and other advanced parts.
This machine is very heavy duty and specially designed for 3D patterns and making side processing of wood,foam,plastic etc.
Machine body is worked out in one process by 5-sided cnc machining center and passed fully aging and tempering to guarantee its running stability and precision.
The spindle can rotate 180 degree and have 8 tools to make multiple plane carving and 3D processing,no worry about any processing limit!
The excellent cost performance makes this machine very popular among machine users.Quality and durability are the most outstanding of this machine.

Parameter
MODEL
UC-481 4 Axis

9.6kw HSD air cooling,spindle rotary ±90 degree

Double layer vacuum table

8 pcs Linear type auto tool changers

Taiwan Linear 30mm square

1. Tool sensor2.Oil lubrication system3. Dust hood4. 5.5Kw vacuum pump5. Tool shanks6. Positioning pins

1.Carousel ATC2.Dust collector3.Boring system4.Working size can customized5.Rotary device6.Auto loading and unloading system
Accessories and Advantage
Spindle is made by HSD, Italy, the features are high speed and low noise.
The spindle is passed test of IP65 water proof and dust proof.
Ceramic bearing is thermostable. heavy duty cutting is available for high precision and bearing abrasion. Inside and outside air cooling system enable long time processing at low temperature and prolong spindle's life.
Japan YASKAWA servo motor
With high speed, high precision. Motor's max. torque can reach 350% which may shorten speed up and slow down time. The servo motor can response instantly.
High resolution makes high Precision position and high precision procession.
Linear type 8 pcs auto tool changers
Easy for maintenance
Low maintenance cost
Fast changing speed
Support drive and spindle error alarm function
Support intelligent file checking function.
Parameter backup and restore function to prevent the loss of important parameters.
Application
Advertising industry:Signage, Logo ,Badges, Display board, Meeting sign board, Billboard,Advertising filed, Sign making,Acrylic engraving and cutting, Crystal word making, Blaster molding and other advertising materials derivatives making.
Wood furniture industry:Doors, Cabinets, Tables, Chairs, Wave plate, Fine pattern, Guitar….
Artwork and Decoration:wood crafts, gift box, jewelry box.
Other:Relief sculpture and 3D engraving and Cylindrical object.