KH4A ATC CNC Router is a four axis linkage, adapt to ±90 degrees,angle rendom rotation professional special machining center used for curved surface processing ,fits custom furniture and cutting material, completely replace the traditional push table saw and electronic cutting saw, get rid of the traditional dependence on artificial cutting mode,through combined with a dedicated production design software, realize intelligent production. Maximum economy and efficiency!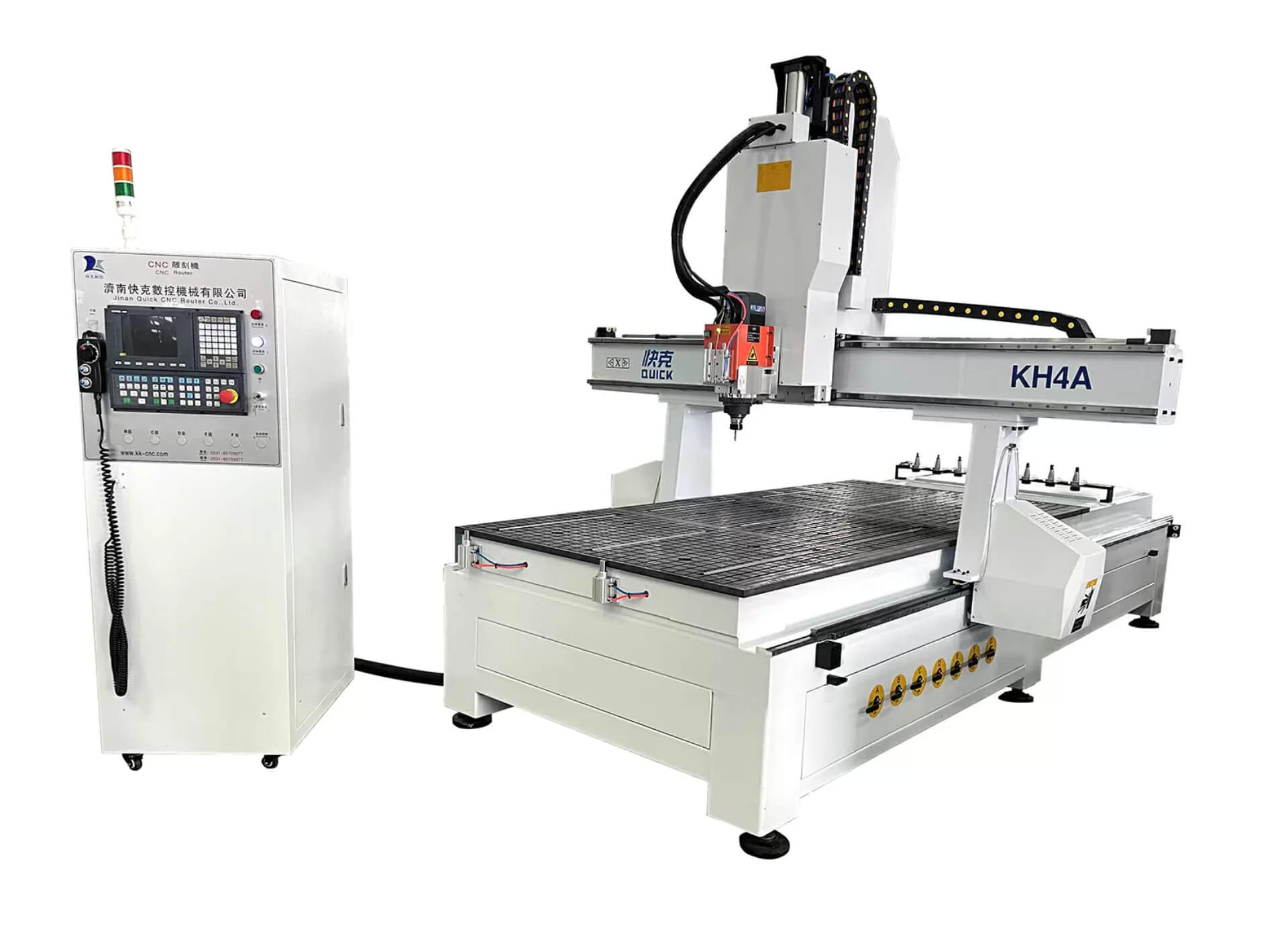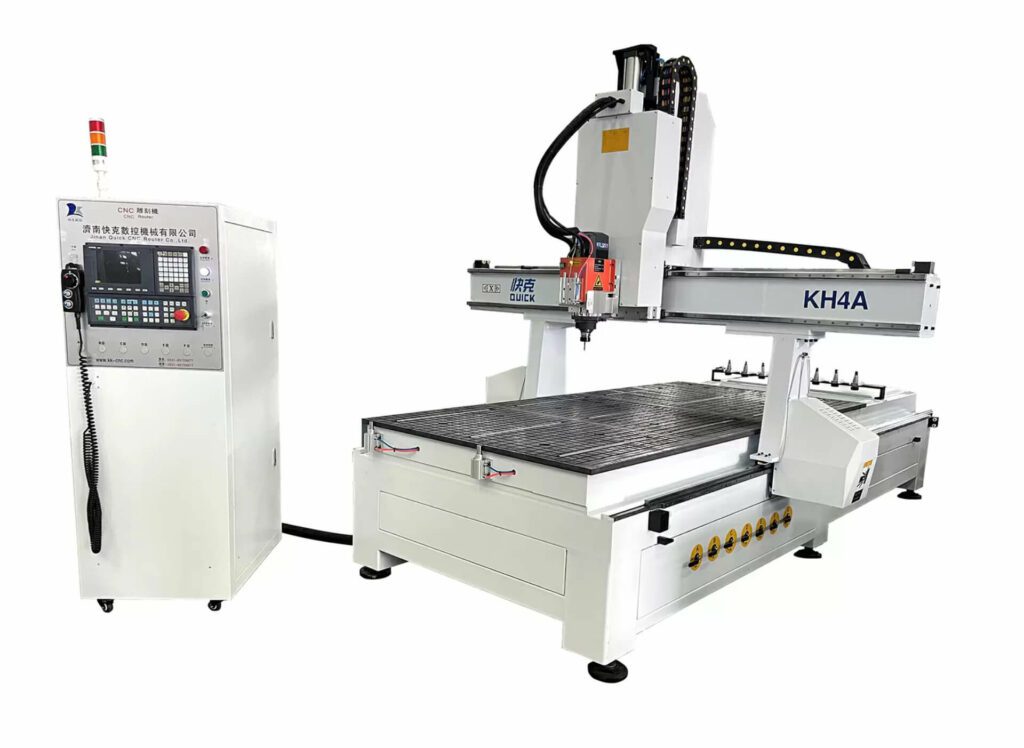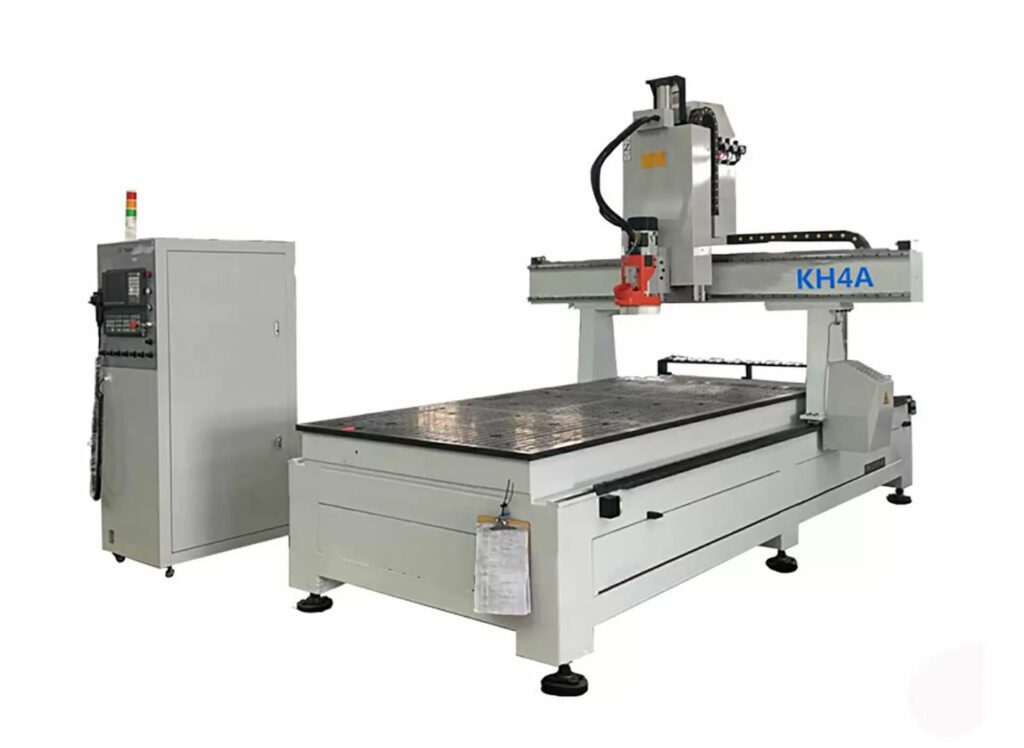 Product Description
The 4-axis router KH4A has all the same axes of a 3-axis router plus the additional A-axis that rotates the spindle around the X-axis up to 180 degrees during the cutting process.
This 4 axis cnc router KH4A is designed to accurately cut a variety of materials, including aluminum, plastics, wood, and more. With an advanced control, rigid cast-iron bed, welded-steel stand, integrated vacuum table, this router is the perfect choice for all your 2D and 3D cutting needs.
The spindle rotates 180 degrees, which can realize the function of drilling and slotting on the side
Both X/Y axes feature a helical rack & pinion drive system (ball screw Z-axis) that promotes smoother motion and tighter control which in turn gives you better quality and precision cut. Both the frame and gantry are welded steel construction for maximum rigidity.
This machine is great for mass production and multiple tool changes in a single job.Depending on model you will have a number of tools from 8 to 12 tools in a holder.
Parameter
MODEL
KH4A

rack and pinion, gear drive

9KW HSD air cooling,rotary 180 degree

linear type with tool shank

vacuum table with 7.5kw pump

Option 1. other working size 2. Becker pump 3. Roatry axis
Accessories and Advantage
fan cooling type automatic tool change high frequency spindle ,Rotrary 180 degree
Spindle is made by HSD, Italy, the features are high speed and low noise. The spindle is passed test of IP65 water proof and dust proof.Ceramic bearing is thermostable. Max. speed is 24000RPM,heavy duty cutting is available for high precision and bearing abrasion. Inside and outside air cooling system enable long time processing At low temperature and prolong spindle's life.
When it comes to machine controller, syntec is a leading company in the world. It is a company from Taiwan.We chose them because it is a powerful controller. Syntec is a company that started as a metalworking company, and later involved in the woodworking industry, so it requires very high precision and very stable.,so it'll make it easier for you to determine if you're on the right part. we also give you an hand wheel that we can easily move the machine.
YASKAWA, Japan servo motor,Σ-V system is newest type, With high speed, high precision. Motor's max. torque can reach 350% which may shorten speed up and slow down time. The servo motor can response instantly. High resolution makes high accuracy.

Application
Advertising industry:Signage, Logo ,Badges, Display board, Meeting sign board, Billboard,Advertising filed, Sign making,Acrylic engraving and cutting, Crystal word making, Blaster molding and other advertising materials derivatives making.
Wood furniture industry:Doors, Cabinets, Tables, Chairs, Wave plate, Fine pattern, Guitar….
Artwork and Decoration:wood crafts, gift box, jewelry box.
Other:Relief sculpture and 3D engraving and Cylindrical object.