1)Lathe bed ruggedly constructed,welded with 16mm square steel and annealed at high temperature to eliminate welding stress, and ensure that it will not be deformed after use for more than ten years.The lathe bed stiffeners are denser, which increases the strength of it and ensures that the bottom plate is not deformed.Then to the pentahedron machining center to ensure accuracy.
2)High strength and smooth rotation CNC machines are 100% original and we have our own machining shop.This is not have in many companies.
3)When our engineer installing main part,such as the column,side panel,spindle etc.., We will attach a precision test to ensure the machine high precision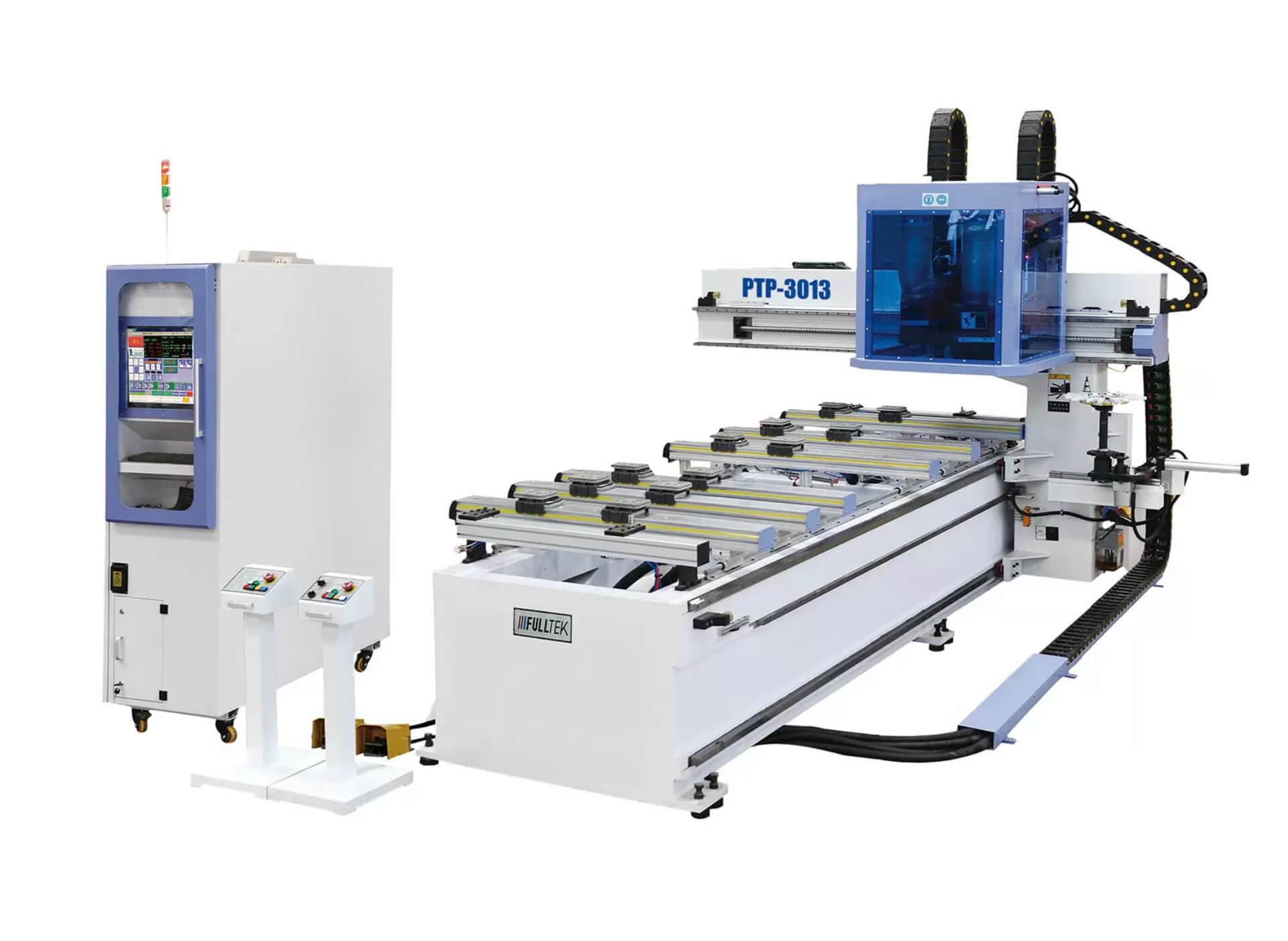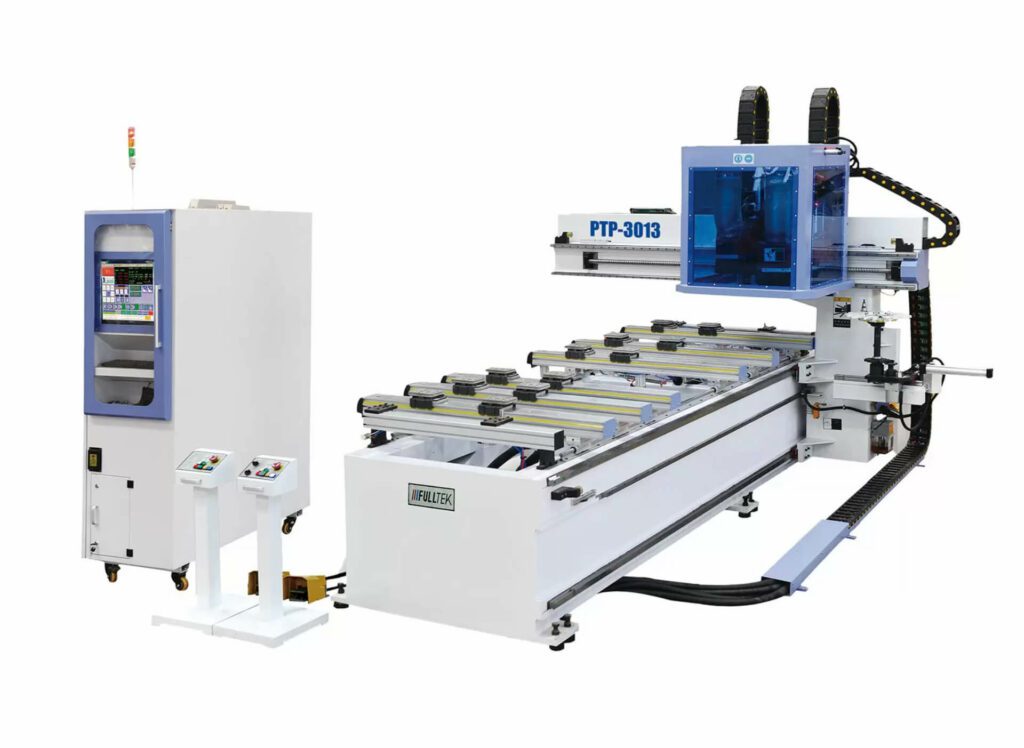 Product Description
1)Lathe bed ruggedly constructed,welded with 16mm square steel and annealed at high temperature to eliminate welding stress, and ensure that it will not be deformed after use for more than ten years.The lathe bed stiffeners are denser, which increases the strength of it and ensures that the bottom plate is not deformed.Then to the pentahedron machining center to ensure accuracy.
2)High strength and smooth rotation CNC machines are 100% original and we have our own machining shop.This is not have in many companies.
3)When our engineer installing main part,such as the column,side panel,spindle etc.., We will attach a precision test to ensure the machine high precision
Our large PTP-3013 Body adopts an overall thick-walled all-steel structure design,high strength and smooth operation. After annealed at high temperature,long-term high-speed operation deformed free and maintains high accuracy.Then to the pentahedron machining center to ensure accuracy.
The multi-functional intelligent machining center has a high degree of automation and can realize 24-hour processing, automatic change various types of cutting tools to process curved workpieces, Invisible workpieces, and multi-process complex workpieces. The tool holder has undergone dynamic balance testing, Centralized and automatic completion of the cutting,engraving,drilling, milling, boring, reaming and other processes of the processing content,which is truly economical and labor-saving.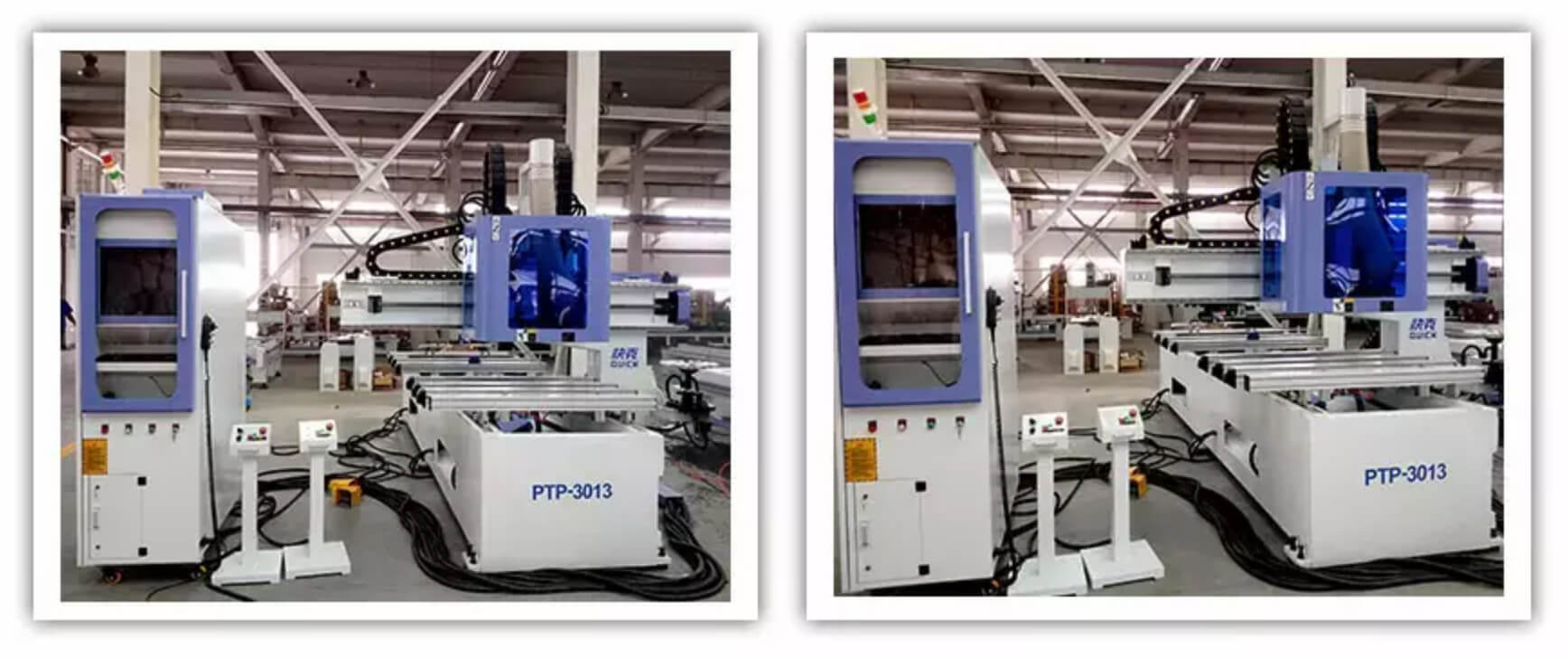 Parameter
MODEL
PTP-3013

rack and pinion, gear drive

Carousel 8pcs tool changers

ER32- 3.175mm, 6mm, 12.7mm

Standard equipment included

Rails PTP Italy SCHMALZ -6PCS .Pods Italy SCHMALZ -18PCS .Positioning air cylinder-16PCS .Panel lifting blades -4PCS KW air pump -1 set Auto tool surface sensor Auto oil lubrication system8. Dust hood
Accessories and Advantage
Spindle and Boring head

Electrospindles, boring heads are designed and manufactured by HSD, the global leader
in the mechatronics sector.
Syntec-PC system/Taiwan
Syntec control system with large storage space,perfect U disk compatibility,fast reading speed, automatic scheduling function, import all files at once and process in order and high anti-jamming intensity.

Servo motor -Japan YASKAWA
Yaskawa servo motor,Σ-V system is newest type, With high speed, high precision. Motor's max. torque can reach 350% which may shorten speed up and slow down time.The servo motor can response instantly. High resolution makes high Precision position and high precision procession.

PTP table
The PTP table with high quality vacuum pods,it is more flexible and convenient to process the plate.The work table is guaranteed to hold the work piece securely in place and ensures quick
and easy tool changeover.

Tool magazine
It is possible to switch from one machining operation to the next with no need for operator intervention for tool 8-10 changes with revolver type 9 pockets tool magazine, thanks to the large number of tools and aggregates available at machine side.
Application
Advertising industry:Signage, Logo ,Badges, Display board, Meeting sign board, Billboard,Advertising filed, Sign making,Acrylic engraving and cutting, Crystal word making, Blaster molding and other advertising materials derivatives making.
Wood furniture industry:Doors, Cabinets, Tables, Chairs, Wave plate, Fine pattern, Guitar….
Artwork and Decoration:wood crafts, gift box, jewelry box.
Other:Relief sculpture and 3D engraving and Cylindrical object.