The Desktop 6090 CNC Routers with auto tool changers are popular for prototyping, small production and home workers alike, this desktop CNC routers comprise of space-saving machines at affordable prices with great features. As excellent starter machines, these CNC routers can produce a wide variety of designs with high precision.
The machine features a 3-5 position ISO 20 Tool Changer
The upgrade Handheld DSP B57 controller with colour screen displays the tool path and the G-code during design and production.
2.2kw water cooling spindle
stepper motor
handheld controller
Delta inverter
T slot table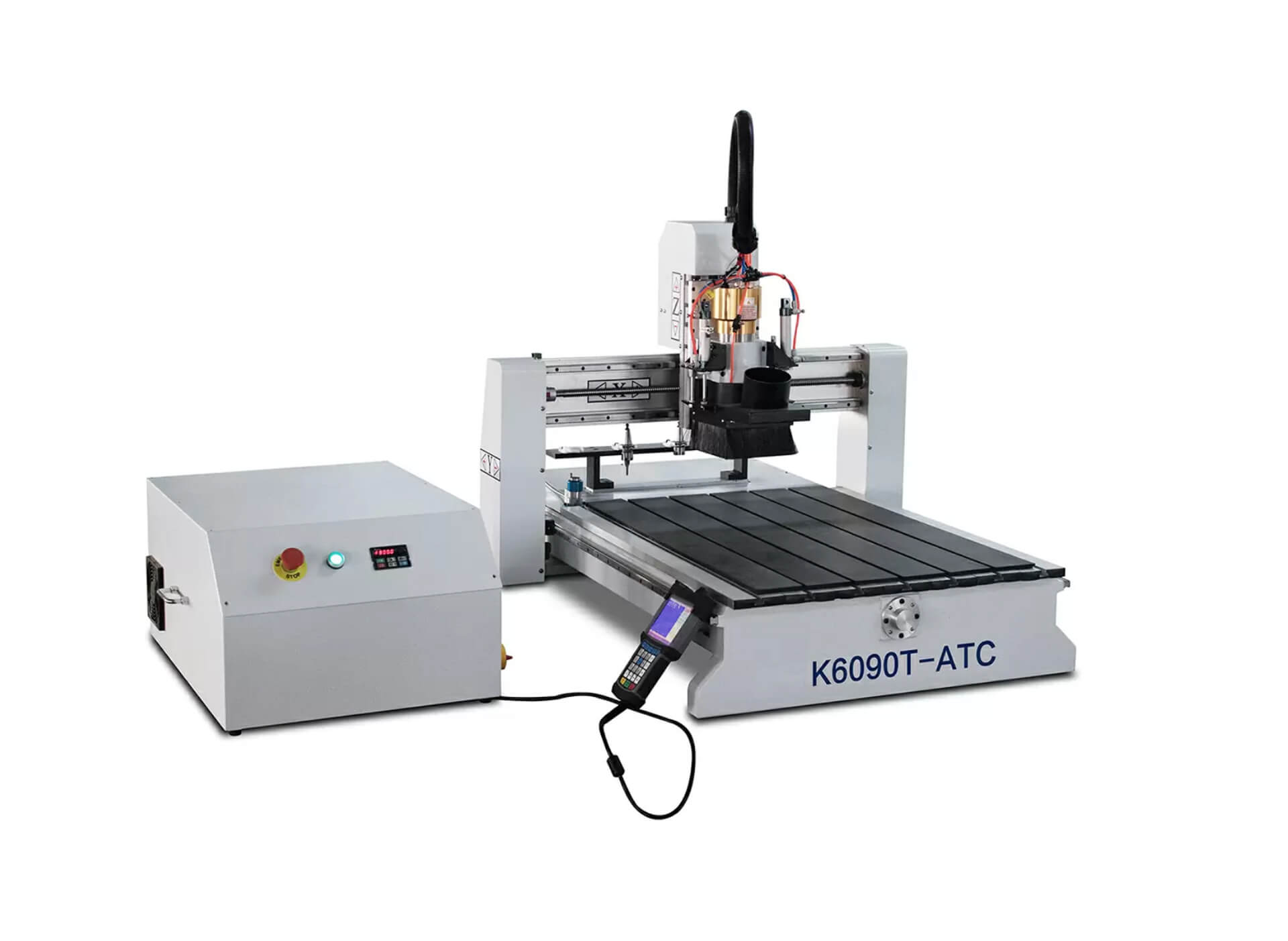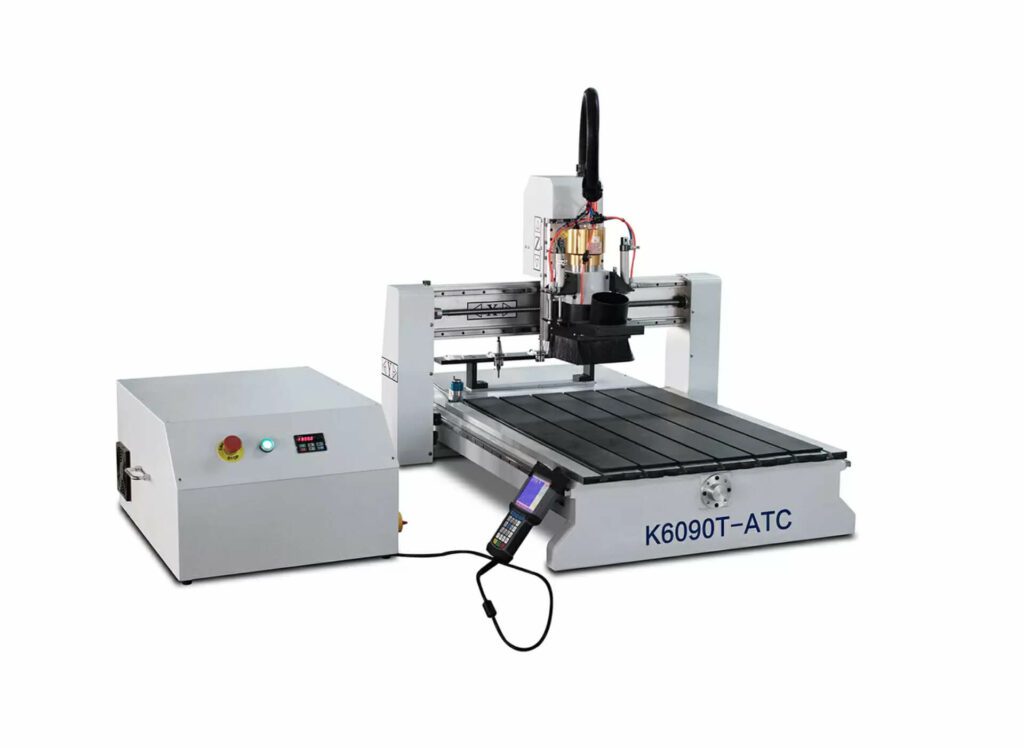 Product Description
Cnc mini router K6090ATC is a very practical model, which has the high precision like large machines, while also meeting the needs of tool changing in the process .
It will help you save labor costs and increase efficiency. As excellent starer models,this CNC can produce a wide variety of design with tremendous precision.
The working size can be designed to 600×1200 or 1200x1200mm .
The 4th axis and the vacuum table is also available .
1. Machine base is produced by CNC machine, and machine base's five sides are produced at one same procession to make sure the machine body geometry tolerance is standard.
2. The unique reality of the 3-axis screw, the machining accuracy is more accurate.
3. DSP B57 control system, allows for tool path previewing and 4 axis function.Processing file one time USB flash drive import,can work all the time.
4. The linear tool magazine supports three tool changers to meet the processing technology of most products.The raw materials are processed on the table at one time without manual intervention.Additional automatic tool sensor to save your time and further improve work efficiency.

Parameter
MODEL
K6090T

2.2kw water cooling spindle

T-slot table with mechanical clamps

Linear 3 pcs auto tool changer

600x1200x150mm working size4 axis rotary device3.Vacuum table
Accessories and Advantage
Hand controlled system, DSP B57
There is no need to attach your CNC router to your computer to operate it. Simply transfer your file to the handheld controller via USB storage device. The handheld B57 controller allows for tool path previewing and 4 axis function.
2.2kw water cooling spindle
The router 2.2kw spindle is automatic tool changer type,very high precision 3HP industrial single phase continuous duty liquid-cooled spindle. which keeps the spindle at a constant temperature and maintains longevity.
Stepper motor and rails
The high-precision stepper motor and Taiwan guide rail make the machine run faster and the processing is more perfect,Main types of processing:engraving,cutting,3d milling ,drilling etc .
Tool sensor
The 3 pcs linear tool magazine with automatic tool sensor to save the tool changing speed and tool setting time. There is a tool release button beside the spindle cover, which is convenient and improve efficiency.

Application
Advertising industry:Signage, Logo ,Badges, Display board, Meeting sign board, Billboard,Advertising filed, Sign making,Acrylic engraving and cutting, Crystal word making, Blaster molding and other advertising materials derivatives making.
Wood furniture industry:Doors, Cabinets, Tables, Chairs, Wave plate, Fine pattern, Guitar….
Artwork and Decoration:wood crafts, gift box, jewelry box.
Other:Relief sculpture and 3D engraving and Cylindrical object.